Because dancers and gymnasts are always looking to improve the shape and flexibility of their feet, a couple of clever manufacturers have developed an interesting gadget called a ballet foot stretcher dancers can use to improve their overall foot appearance. The one above is proving to be very popular, and the best price I could find for the one above was on Amazon.
This foot stretcher is custom designed and an incline is molded into the select wooden base.

This allows room for the heel to rotate down thus avoiding impingement of the heel bones.

This foot stretcher is completely covered with two-inch Memory Foam for total foot comfort.

Velcro adjustable overlapping flap to properly secure any sized foot.

A variety of designer fabric choices are available.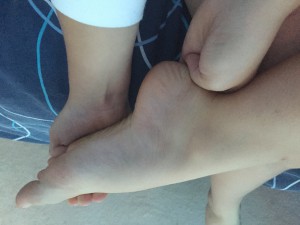 Dancers, gymnasts, and swimmers often need to stretch and strengthen the upper arch of the foot for correct positioning for their sport.
There are various exercises that dancers perform including the one pictured to your left.
The dancer grabs the top of her foot with one hand and then pushes the heel forward with the other hand.  The idea here is to stretch the top of the foot and then improve the arch at the same time.  The only problem with this exercise is that sometimes the dancers stretches with a
sickled foot
, which is also developing a bad habit.
Another common upper arch exercise is done by having a fellow class mate or your instructor hold down the foot, pressed to the floor, while the individual lowers the back of the leg toward the floor, thus stretching the upper arch of the foot. This exercise is quite difficult for a dancer to do without some assistance, and can also be quite painful, as the heel is pressed down against the hard floor.
The Superior Arch Foot Stretcher above was originally developed for ballet dancers that were en pointe. Extensive design consultation was taken from two renowned professional Ballet Instructors, both former lead dancers in national companies and a Doctor of Physical Therapy specializing in Dance and Sports Injury.
This ballet foot stretcher dancers can use to exercise and stretch the upper arch of the foot prior to a performance, during regular class instruction or as part of home stretching and exercise. Serious dancers and other athletes will spend thousands of dollars each year on pointe ballet shoes, lessons, coaching and equipment to help improve their technique. For just a few dollars, you can have the Superior Arch, the best Foot and Upper Arch Stretcher available anywhere.
Please feel free to comment below, especially if you have tried this foot stretcher, or have found a better one.