There are many companies that manufacture dancewear, costumes and other great dance essentials for both students and professional dancers, but Capezio dancewear is one of the most popular brands of dance gear out there. Capazio dancewear has over a hundred years of experience in the performing arts field, and I have included a brief history at the bottom of this page.
Because dancers are always looking for comfortable gear in the form of tights, leotards, and shoes, Capezio Dancewear caters, especially for the dancer. Not only is Capezio Dancewear comfortable and practical, but they also have some really pretty designs, especially in their leotard range.
Capezio leotards are available in a variety of designs and interesting fabrics like ribbed cotton and velvet. Some of the more popular styles include the double-strap or cross-strap camisoles.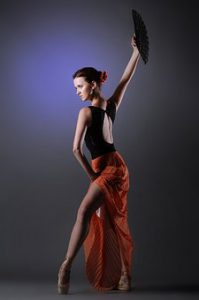 Although there are no specific brands of shoes that schools require for their dancers, many encourage their girls to wear pink and their boys to wear black or white for ballet. Capezio dancewear has so many different colors and designs to choose from. Their pointe shoes are also very comfortable and many dancers worldwide choose this brand.
Other popular ballet manufacturers alongside Capezio dancewear are Sansha, Bloch, Grisko, and Prima Soft. These companies all have popular full-soled and split-soled shoes. Capezio also sells leather Romeos, split-sole ballet shoes designed especially for men.
Some ballet dancing schools can be strict about accessories, but most allow short skirts to be worn during variation classes, but only at the instructor's discretion.
Some allow skirts that match your leotard,  and a lot of manufacturers are doing skirts that are attached to the leotard now. All the skirts are normally color coordinated to their leotard line. Some allow for creativity, and students can even opt for the hand-dyed look of Watercolour skirts.
Fun accessories in dancewear include unique dance bags and warm-ups. A popular style with girls and boys is the rip-stop nylon shoulder or messenger bags with cell-phone cases attached.
The most important aspect for dancers I find is the comfort. Capezio Dancewear is made with only the high-quality materials and fabrics that allow the skin to breathe, which is great, especially on hot sweaty days.
Popular Capezio Dancewear
Here are some examples of Capezio Dancewear that can be purchased online from the comfort of your own home. If you are interested in any of the items below or viewing anything similar, simply click on the picture or the link above it.
Hope you enjoy, as these are some of my favorite Capezio products.
The leotard is 90% Nylon, 10% Spandex and trim is 100% Polyester.

Cold water, hand wash, lay flat to dry.

Pretty pleated flutter sleeve.

Full front lining.

Available in baby pink, white and black.
Any little ballerina will feel like a princess in this outfit. The perfect gift for the little ballerina in your life.
You will absolutely love wearing this leotard. Attractive crisscross back.
The fabric is made with 90% cotton and 10% lycra. It feels great on the body even when you're sweating.
Just beware of the sizing on this style when you order. It seems that you need to order two sizes up from what your normal size is.
This leotard comes in Amethyst, black and Navy.
78% Other Fibers, 22% Spandex.

Hand wash the camisole leotard.

Dries quick with natural wicking.
This sophisticated camisole leotard flatters your figure and is secure on the body for both adults and children.
You will definitely draw ooh's and ahh's for its unique laser cut pattern which is backed by a stretch mesh. Produced with high quality Meryl fabric which moves with the body, dries quickly and naturally wicks moisture. Vibrant new colors with matching skirt available.
These are just a couple of examples of the stunning leotards that the Capezio dancewear range offers.
86% Taclel Nylon, 14% Spandex.

Hand wash only

1 inch plush elastic waistband,

Dye-to-match gusset.

Also comes in pink, black and nude.
A customer wrote "I discovered Capezio because my sister is a ballet dancer and I once asked to borrow her tights when my nylon stockings ripped before a party.
I instantly fell in love with them. They are so soft and are designed to stretch in every direction, so they never tear. They are not translucent like ordinary stockings but they don't look silly like thick tights.
For the price of one these forever tights, I would have gone through so many cheap stockings and so many evenings with the crotch falling down to my knees, my feet getting sweaty and blistered, and the material tearing along my entire calf. After buying these tights, I'll never wear anything else."
Leather slipper and sole.

I recommend ordering one size up from the shoe fit guide shown on the website.

This ballet slipper is constructed of high quality, lightweight, soft, durable leather and a bar-tacked elastic drawstring

Full chrome tanned suede leather outsole for durability. Wider fit, shaped on a generous women's last. Begin with street shoe size

Daisy print on hung cotton lining, Unisex no-print lining for black colorway.All dance shoes are to fit snugly as they do stretch with use.
86% Tactel Nylon, 14% Spandex.

Hand or machine wash in cold water, tumble dry low.

Plush elastic waistband.

Dyed-to-match gusset.

Super soft and comfortable.
Transition tights are great for dancers who do ballet and modern and they need to get into bare feet in a hurry.
90% Tactel Nylon, 10% Spandex.

Machine wash cold, gentle cycle, hand dry, no bleach.

Adjustable straps

Perfect smooth fit under layer.
100% Nylon.

Hand wash Only.

Matte, semi-opaque tight with dyed-to-match gusset and cutout at the ball of the foot.

Comes in many different shades and colors.
Once again, order one size bigger than needed, as a small fit.
Leather/Fabric.

Synthetic sole.

Heel measures approximately 0.5″.

Shoes may appear small due to intended stretch factor. Once the shoe is stretched to fit over the foot, the shoe will fit as per the Women's size.

This shoe's sizing is equivalent to street shoe size.

Heel counter features an Achilles relief that provides a softer top line

Neoprene stretch arch insert.
Ultra-soft leather with a leather sole.

Suede sole patch with pleats,

Ballet constructed sole patch really allows the toes to spread,

5/8″ one-sided plush primary elastic pre-attached at the sides,

3/8″ secondary elastic attached under the arch.
Made of fabric with a suede sole.

This shoe's sizing is equivalent to street shoe size.

ExoArmour duet suede sole patches molds to and moves with the foot for unbeatable traction and protection.

One-sided plush elastic with Capezio logo.
Mesh, suede, and synthetic.

Synthetic sole.

This shoe's sizing is equivalent to street shoe size.

Flat, boxed toe for toe stands.

Padded Achilles notch for added comfort.
Hand wash and air dry. 

Bamboo knit fabric and contoured silicone knee pad provide comfortable support and protection in the studio.

Slip on and stays in place through those long rehearsals.

Nude fabric and low profile make them less visible on the Dancefloor.
Capezio Dancewear Had Humble Beginnings
Capezio/Ballet Makers Inc. is the leading U.S. manufacturer of dance and theatrical footwear. The respected brand has been around for well over one hundred years, and many famous dancers have relied on Capezio shoes over the years.
Capezio dancewear began as a tiny shoe shop in New York City run by a teenaged Italian immigrant called Salvatore Capezio.
He was born in 1871 in the town of Bruno Lucania Potenza, Italy. After training as a cobbler, he came to the United States as a youth. He set up shop on Broadway and 39th Street in New York in 1887 when he was only 17. His shop was called "The Theatrical and Historical Shoemaker."
He did not start out by making dance shoes, only repairing performers shoes. But more and more performers and dancers started bringing their shoes to him for repairs and soon he was just specializing in dance shoes. Anna Pavlova made him famous by ordering shoes for herself and her entire company from him.
Capezio mainly specializes in ballet slippers and toe shoes, as well as costume shoes for jazz, modern dance and theatrical performances.
Capezio also makes specialized footwear for circus performers and gymnasts. Along with shoes, the company produces dance and athletic clothing such as tights, leotards, and warm-up outfits as well.
Capezio now operates two factories, one in New Jersey, and one in Florida. Much of the shoe assembly is done painstakingly by hand. Capezio also contracts with factories in Brazil, Thailand, and China to make some of its shoes and clothing range.
Capezio dancewear sponsors the annual Capezio Dance Award, which gives a cash prize to a significant dancer or choreographer each year. The award is overseen by the Capezio/Ballet Makers Dance Foundation, a charitable organization set up by the company in 1953. Capezio/Ballet Makers is a private company still run by descendants of the founder, Salvatore Capezio.