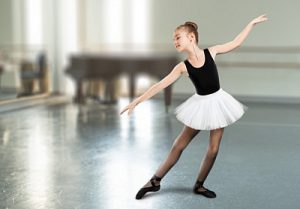 All dancers want to feel comfortable in their ballet practice clothes. Nowadays you get such beautiful and practical ballet practice clothes, that there is no excuse not to be both comfortable and look gorgeous. The fabrics these days also allow for more ease of movement and have good absorbent qualities for comfort even when you get all sweaty.
What To Wear To Dance Class
If you are going to a dance class, find out if there is a specific uniform that you need to purchase. Some schools have strict policies about uniforms. Otherwise, it is important to wear clothes that are form fitting, stretchy and comfortable.
You cannot be shy about your body shape when you go to a dance class. You need to have form fitting clothes so that the teacher can check that you are using the correct muscles for each exercise and correct you as necessary before your mistakes become bad habits. If you are wearing a baggy top, for instance, the teacher won't notice if you are not using your core muscles. Also, loose clothing will flap around and distract you from your dancing.
Generally, for a ballet class, you will need a leotard, tights, ballet shoes, and maybe a practise skirt for those who want more coverage.Make sure that your hair is tied away from your face, as loose hair will hinder your turns.
Make sure that your hair is tied away from your face, as loose hair will hinder your turns. A ballet bun is always best.
Best Ballet Practice Clothes You Can Purchase Online
This skirt is made of lycra.

It has a classic pleated design.

It has a high stretch elastic soft waistband.

There are built in shorts inside the skirt.

This skirt is perfect for ballet dance practice, stage performances, swimming and other sports.

Other styles are also available.
New Professional Ballet Pointe Dance Shoes with Ribbon at a great price.

Materials: Top: silk satin; Bottom: high-quality Cellulose, hard bottom.

Built for comfort, and very suitable for normal practice.
Every dancer needs a comfortable pair of pointe shoes in her ballet practice clothes kit.
This comfortable leotard is 90 % Cotton blend fabric.

It has a Double Twist Back Treatment.

Scoop neck front, Shelf Bra and modest cut.

Many other beautiful designs available on this range.
This top is 100% Nylon

It is soft, light and cold-proof.

High-quality, soft feel, and drapes well.

The sweater looks like attractove.

Availabe in black, pink, navy blue and Wine red
This top is form fitting and comfortable and comfortable to dance in without being too warm. Great for those cooler days.
This practise tutu is made from 83% Nylon and 17% Spandex.

Ladies sized pull-on practice tutu with built in panty.

This tutu will make any dancer feel special in class.
38 inches in diametre.
Comes in Black and White.
And of course any ballerina needs some comfortable tights to add to their ballet practice clothes kit.
These are 100% Nylon and imported.

They are matte, semi-opaque tights with a dyed-to-match gusset and a cutout at the ball of the foot which makes it useful if you do free movement or modern dance.

Make sure to always wash your tights by hand.
Make sure to keep your ballet practice clothes together in a separate drawer away from your other clothes, otherwise, they get lost so easily and possibly damaged. It is also a good idea to have a bag that you keep everything together in all ready for your next ballet class.