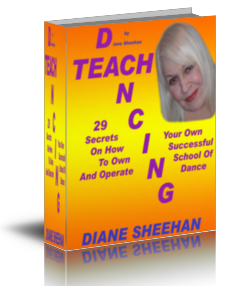 If you want to know more about Dance Studio Management, how to open a dance studio, how to teach dancing, and how to own the best dance studio in town, then you need to get yourself a copy of So You Think You Can Teach Dancing.
This book is an ebook written by Diane Sheehan, and it focuses on all the aspects on how to own and operation your own successful school of dance.
Who Is Diane Sheehan and How Does She Know About Dance Studio Management?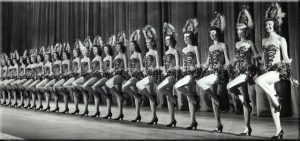 Diane Sheehan (5th from the right) is a former Rockette and Choreographer. She has now turned dance entrepreneur with a master's degree in philosophy, which she majored in Eastern thought and existentialism. She has over 49 years experience as an owner and operator of the most successful dance studio on the Niagara Peninsula.
She has realised over the years that she has been teaching more than just dancing, and she was able to simultaneously assist students to gain the confidence in themselves that it takes to become caring, responsible and amazing individuals. She is also a certified hypnotherapist and an author.
She has also established World Wide Dance Network Online as a platform for teachers to advertise and provides other related dance information.
What Can You Learn From So You Think You Can Teach Dancing?
If you are a dancer who dreams of owning her own dance studio, this book shares 29 secrets to make that dream a reality.  It is often difficult for professional dancers to go out of their comfort zone and learn how to operate a successful business, but this book makes it easier for you to take actionable steps in that direction.
Being an accomplished dancer is only the first step towards being a successful dance teacher, and learning how to teach dancing.
Diane was also a professional dancer and she shares her secrets with you on how she has used many ingredients to contribute to her successful dance studio.
This is an excellent book to enable you to lay a foundation upon which you can build the best dance studio in town.
As a dance teacher, you will need to learn how to make sure that your students will want to return to you for their lessons week after week for years to come. You will also need to make sure your students reach their personal goals of becoming the best dancers that they can be and not dropping out of their lessons prematurely.
In this book, you gain some valuable insight on how you can get your students to work hard in order to please, rather than to work hard out of fear of making mistakes, which takes all the joy out of learning to dance. This involves a deep understanding of your student, as well as the use of correct body language.
Using Diane's methods, you will be able to impart confidence in your students and their ability to learn to dance, as well as establishing their confidence in you as a teacher and their trust in you as a person.
This book focuses a lot on retaining your current students and building your studio from word of mouth, rather than spending a lot of unnecessary money advertising for new students all the time.
Other things that Diane's book focus's on are things like:
Studio Location
Studio Equipment
Viewing rooms in a Dance Studio
How to market your Dance Studio
How to Set High Standards within your Dance Studio
How to deal with registration and setting your prices
Ideas on how to deal with small classes in the beginning stages of your business
How to deal with problem parents
Outsourcing
The advantages of technology in your dance studio management
Help on developing more gifted dancers without neglecting the others
Help with teaching technique and working out choreography
Advice for putting on a dance show
So as you can see, this book is a valued addition for all dance teachers and dance studio owners out there.
I have learnt a lot from reading So You Think You can teach dance, and the price was only $19.95 at the time of writing this post which is why I snapped it up.
So if you want to know how to open a dance studio, how to teach dancing, and all about dance studio management, Click Here!