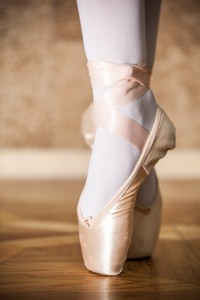 Getting a pair of ballet pointe shoes for the first time is a very personal experience.  You should have the opportunity to be able to try on various makes and types before making your final decision.  The shoe needs to suit your foot type and should be able to support your foot properly.  A highly arched foot for example needs a higher vamp than a flat foot.
Please note that this post does contain affiliate links.
Also, make sure that you get fitted by somebody who knows what they are doing.
There are many different makes of ballet pointe shoes, but not every make will suit every foot. For instance, Freed is a great make but does not suit every foot. Within our studio, the most popular choices are Grishko and Block. The girls with stronger feet also love the Sancha range.
Once you know your size and the make of shoe that you like, you can probably shop around online and get your pointe shoes a bit cheaper. Here are a few options for you to look at.  If you need to find out more about the pointe shoe in question, click on the picture.
Ballet Pointe Shoes Online

Sancha Recital II Pointe Shoe
Sancha is a well-known brand developed by Franck Raoul-Duval in 1982.  Franck was a Frenchman with a passion for dance, and a lot of my dancers love this shoe.  It tends to work better for the dancer with a strong foot to start off with.  Sancha is well known for its split-sole ballet shoes that give a glove-like fit.  They also manufacture other ranges of shoes with everything from ballet to jazz to hip-hop to ballroom to flamenco.
Reviews:
'I bought these pointe shoes after four years of not being on pointe. In the past I bought Capezio, but my feet have grown several sizes and Sansha is the only company that has my size. The sizing chart you can find online is not very accurate. I bought a size 14 (I have size 12 street shoe) when I really should have gotten a 15. Make sure you wear toe pads because these shoes are hard to break in and can really tear up your feet.'
'The Pointe is beautiful and the ribbons were easy to stitch in. I suggest the gel inserts though these will kill your feet if not.'
'I really loved how strong these are. Even as my first pair of pointe shoes, I noticed that they were extremely well made and are very hard to break into. One drawback: The strap isn't attached and you need to get some ribbons as they aren't given with the shoes. I usually wear a size 9 street shoe and ordered a 12; I'm kind of wishing I got a 13 because they're a little tight, but I'll deal with them. Overall I think these are good pointe shoes for the beginners and am excited to start trying these out. The color is superb and beautiful!'
This leather-soled shoe is extremely comfortable and already has a protector in the front of the shoe, so no darning is necessary.
Capezio Women's 102 Glisse Pointe Shoe
Pink Satin

Leather sole

This shoe runs 1/2 size smaller than the street shoe size

U-throat

#3 Shank

Wide platform
Capezio is another great brand and well known in the ballet world.  This shoe has a broad, feathered toe box. Medium vamp and No. 3 leather board shank, 3/4 skived to No. 1. Round shape throat and elastic drawstring. Hand-flattened crown. New pleating with quiet toe construction. Soft cotton lining.
This is best for a medium to wide forefoot with toes of even length. Begin with street shoe size.
Capezio's Glisse is a great starter pointe shoe. The long vamp and wider toe box will keep you more comfortable, while the #3 shank helps you to roll up on your toes more easily.
Reviews:
'I didn't actually get a chance to dance on these shoes as the sizing on Amazon.com was horribly off! As a dancer who usually dances solely in Bloch shoes, I thought I'd take advantage of the wonderful sale Amazon was having on Capezio pointe shoes to try another brand and see what I thought. Unfortunately, the recommendation to purchase shoes 1/2 size smaller than street shoe sizing was terribly off and I had to return the shoes. When I checked on the Discount Dance website (those who had actually shipped the product to me), I found that they recommend sizing the Capezio pointe shoes 1 size *larger* than your street shoe size, which is a much more accurate recommendation. I attempted to do an exchange, only to find that the shipper was unable to exchange the too-small shoes for a pair that fit correctly because the inventory had been depleted. Had I received accurate information as to size in the first place, I could have taken advantage of the sale pricing to try out a new shoe. I notice that this inaccuracy still hasn't been corrected on Amazon's website, so I would recommend the buyer beware when relying on the sizing information provided on this website if you have never tried this particular shoe before.'
'These are great shoes, particularly to start pointe work in. I am seeing a lot of complaints about sizing, but I just don't get why in the world anyone would order a pointe shoe online that they hadn't physically tried on. No one is the same size across brands and styles and fit is way too important in a pointe shoe to just order and hope it fits. GO GET FITTED, and by someone who knows what they are doing! I saw one mom say she ordered these for a 9-year-old and they didn't fit. WHY is a 9-year-old in pointe shoes, and WHY would you not get her fitted for the first pair? You are risking the long term health of your feet if your shoes aren't properly fitted!'
There are various makes available for the above pair of pointe shoes, so for your first pair, rather get fitted professionally so you know exactly what you want to order.  As you can see from above, don't rely on the size guide alone.
Some Great Complimentary Products for your Ballet Pointe Shoes:
Here are some great additions to your ballet pointe shoe kit.
These products will help you to ease into your pointe work that much faster and help you to create a more enjoyable experience for yourself, especially if it is your first time in pointe shoes.
If you need to find out more, simply click on the pick of your choice.