Ballet Bar Exercises or as ballet students call it ballet barre exercises are an essential part of Ballet Training.  In fact there even those who look towards a Ballet Bar Workout to get fit, strong and supple.
Please note that this post may contain affiliate links.
Ballet Barre Exercises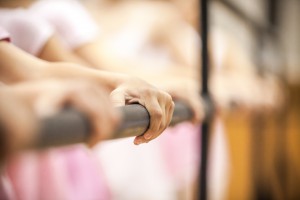 All ballet classes normally start with ballet barre exercises.  This is a very important part of ballet training, as it trains the muscles of the body to apply the correct technique when dancing in the center.
At the barre you have a support so that you can concentrate more on getting the exercises right without worrying about falling over.  This said, one should never hang onto the bar.  Fingers of the hands should rest on it lightly, just as one would do if one had a partner.
Most ballet classes will start the bar with a plie exercise.
This is a simple bending action of the knees, making sure that they are placed well over the toes.  Beginners will start with demi plies in first, which is a bend with the heels still on the floor, while more advanced students will do full plies in first position, where they go further down with the heels lifting slightly off the floor. to aid the bend.
Plies can also be done in 2nd, 4th and 5th position, and you can read more about bar work here.
The next series of ballet bar exercises include tendus, battements glisses, batements jetes, ronds de jambe, battements fondus, petit battements and frappes.
These ballet barre exercises are all designed to work the muscle memory, improved technique, improve balance, learn how to use the legs and feet correctly while maintaining a good posture, and last but not least to develop precision and speed in the footwork.
Adage ballet bar exercises normally follow, which include slow movements with one leg in the air.  This builds up strength and flexibility in the dancer.  Adage also works the turnout within the hip socket.
The bar exercises normally end with grand battement, which is a throwing action of the leg with a controlled coming down.  Bar could also end with a series of releve exercises, which strengthen the feet and ankles and prepare the dancer for pointe shoes.
What If I Can't Get To A Ballet Class?
These resources below give you some great ballet barre exercises and are structured in a way that anybody can follow, regardless if you are a dancer or not.
They can be purchased online and assist you in getting a great ballet bar workout.  Here are a few.  If you want to find out more about a certain product, simply click on the picture next to the description.
Cardio Barre
This Cardio Barre DVD is a bonus, as it contains four different bar workouts for the price of one.
Intro – 20 minutes
Beginner – 37 minutes
Intermediate – 40 minutes
Advanced – 52 minutes
Each workout progresses to a more difficult level by increasing the tempo of the music, the length of the workout, the amount of repititions in each exercise, and the difficulty of the exercise.
" I LOVE this DVD. I asked for it as a Christmas present and I'm still enjoying the beginner level workout. I use it 1-2xs a week as a full body strength workout. I rotate using it with cardio/treadmill workouts and other strength dvds. I always feel wonderfully energized and stretched afterwards.
I'm a former dancer and really enjoy the barre training and the low-impact cardio. I did not purchase a barre, but instead I use a high-backed kitchen chair."
The Booty Barre
The booty barre by Tracey Mallett is a great way to work out and is getting very popular.
The Booty Barre DVD is a fun, unique, high energy class.
It fuses legendary fitness techniques from Pilates, Dance, Calisthenics and yoga.
You will streamline, firm, tighten and tone your entire body without adding any bulk. creating balance, posture, body awareness, flexibility and cardiovascular endurance.
The result is a body that looks and moves 10 years younger!
What's the secret behind The Booty Barre?
Fat Burning Interval Training
Deep Toning Isometric Conditioning
Elongating Techniques inherent in Pilates and Dance. These are mixed together to create a NEW workout that will change how you exercise forever!
Say goodbye to cellulite and belly fat with The Booty Barre
For this workout you will need a chair or a ballet barre and a set of 3-5 pound dumbbells
Review
Awarded Top 8 Workout DVD! –Best Health Magazine
Fluidity Fitness Exercise Barre
Beginner Workout – Fluidity founder Michelle Austin guides you through Fluidity's beginner movements with foolproof instruction that guarantees you proper form and maximum results.
Intermediate Workout – Take your workout to the next level with intermediate positions and resistance bands to intensify your upper-body workout.

Advanced Workout – The ultimate whole-body challenge! Evolve your workout to a whole new level of intensity with advanced movements and the Fluidity Ball, designed to increase the challenge while adding a little fun.

Fluidity Ball, Pump and Resistance Bands – The Fluidity Ball is designed to make even our most advanced Fluidity positions more challenging and fun. Therapeutic movements with the Resistance Bands develop functional strength in the complicated shoulder joint where weights just won't cut it.

FluidityFit Guide to Healthy Eating – Boost your energy, strengthen your immunity and accelerate your workout results with our nutritional guidelines to living a healthy and delicious whole foods way of life.
Need Your Own Ballet Bar?
You can order this non slip bar online by simply clicking the link above.

Light weight premium aluminum and rust free.

Stretch band included as well as a carry bag.

Adjustable height and 4 feet long.

Easy to assembly and totally portable.

Exercise guide included with illustrated stretching exercises.
Please comment below if you have any other ideas on ballet barre exercises and how they will help you or if you have any questions.