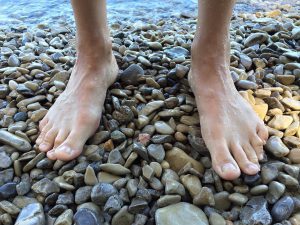 Most dancers know that their feet are very important and because they have to last a lifetime, we need to look after them as best we can. Here are some of the more common foot problems as we age and what we can do about these niggles if anything at all.
Foot Problems As We Age
These are some of the more common foot problems as we age:
our feet flatten and widen
the fat padding on the sole of the foot wears down
the skin on our feet becomes dryer
foot pain is more prominent, and it may lead to arthritis, diabetes, and circulatory disease.
Other Foot Problems We Incur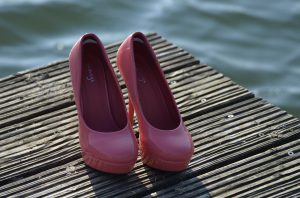 Women are at a far higher risk than men for severe foot pain, and this is most likely because of high-heeled shoes, and even pointe work in ballet.  Wearing the incorrect shoes can also cause problems like bunions, mallet or hammer toe, and corns, and these can get worse if not treated by a podiatrist.
Sports and dancing can also have its drawbacks, like shin splints, heel pain and knee pain, which are all related to the way in which we use our feet.
During pregnancy, women have an increased risk of foot pain, because of weight gain, swelling in their feet and ankles and the release of certain hormones that cause all the ligaments to relax.
People who are on their feet all day due to work are also very likely to suffer from some type of foot pain or discomfort.
Weight gain puts a lot more pressure and stress on the feet and can lead to long-term foot pain and ankle injuries.
Rolling inwards of the foot and flattening of the arches (over-pronation) is a major contributing factor to foot pain and foot problems as we age.
Foot pain is unfortunately very common and about 70% of the population will suffer from foot pain at some time in their lives.
The foot is a complex structure with 26 bones, 33 joints, and an intertwining web of more than 120 different muscles, ligaments, and nerves.
Think about it, with each step you take, a force of 2 to 3 times our body weight is placed on our feet, and during a typical day, most people take between 5000 and 10 000 steps.  It, therefore, comes as no surprise that sometime in our lives we will all suffer from some type of foot pain.
What Can We Do About Foot Problems As We Age?
There is a lot we can do to help alleviate foot problems as we age and the sooner we start the better.
Exercise
Keep active, as there is nothing like exercise to keep the circulation going and those feet flexible. Incorporate some foot exercises into your routine each week, like rolling them on a tennis ball to keep them supple, or picking up marbles or pencils with your toes. Point and flex them too when you have a chance.
Foot massage can be done by you each day when you rub cream into them. Use your thumb with pressure on the base of your foot. As you get older, put cream on them each day, as they become dry very quickly.
Foot Care
General foot care is a must. Don't let your toenails become too long, or they could press on your shoes and that could cause ingrown toenails or other problems.
Keep your feet warm, but don't restrict the blood flow with socks that are too tight.
If you have sore feet don't wear slippers, as these give no support and encourage you to shuffle. Rather invest in a good pair of running shoes that support your feet where necessary.
As you get older, you will need to spend more on shoes, as you will need more support. Shoes with cushioning underneath work well and protect your soles, especially when they are wearing thin.Remember that your foot size changes as you age, so every time you buy new shoes, walk around in them first and make sure they fit well and are comfortable and roomy.
When you sit down, prop your feet up to improve the blood circulation.
If you have any problems that you can't cope with, find yourself a good podiatrist. They will be able to make your life a whole lot more comfortable.
Foot Care Products