Finding good ballet classes for kids can sometimes be challenging.  It helps to shop around and let your child try out a few classes at different dance schools and venues before making the final decision.
How To Find Good Ballet Classes For Kids
First, and of course most importantly, make sure that the dance teacher that will be training your child is fully qualified, and also check which body of dance she is affiliated with.  If you have never heard of it, beware, as not all the dance bodies give accredited courses and ongoing professional development for their teachers.  An international body that has been around a long time is always best.
Choosing an under-qualified teacher can result in incorrect training and perhaps even injuries.
Having the correct training is so important in the formative years, as this is where muscle memory and correct technique are developed and it is very difficult to fix up bad habits later on once they have formed and the body gets used to doing things incorrectly.
Qualified teachers also know just how far they can push the children without them getting permanent injuries.  Pushing a child into difficult steps and positions before they are strong enough to cope, will result in health problems later on.
Watch the way in which the teacher interacts and trains the children.  Is she in control of the class?  Is she giving the children constructive corrections and are the children enjoying their class?  Is the class age appropriate and is the music suitable?
Secondly, check that the studio is safe.  Is the floor suitable for dancing?  A sprung floor is obviously the best choice as this offers joint protection when doing steps of elevation.  There is nothing worse for knees in the long term than hard landings on a hard concrete or tiled floor.
Is the floor very slippery?  Is the floor clean and free of obstacles over which the dancers can fall or trip?  Is t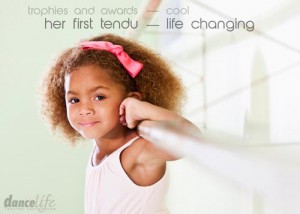 he floor in good repair and free of holes?
Check and see what the dance studio offers in the way of ballet classes for kids:
Do they offer examinations for the pupils by an accredited body and an examiner other than the teacher herself?
If you want to read why dance exams are important for children, you can read this post.
Do they offer stage work or competitions? Sometimes studio's offer both as some children like to perform and others like to compete.  No studio should force a child onto the stage before they have developed enough self-confidence. On the other hand, stage work is wonderful to develop self-esteem and confidence, and most children love to perform.
Ask what other activities are offered throughout the year to keep the children motivated?  For example, some studio's may do badge tests, others may do charity work or shows or a studio concert.
When you bring your child to her first ballet lesson, see how she responds to the teacher giving the class.  Not all children will like the same type of teacher.  Some will prefer a stricter teacher, while others will prefer a more gentle approach.
Last but not least, is that your child must be comfortable and happy within your chosen dance studio, otherwise it could put him or her off of dance for life, and that would be a huge loss. If your child is happy, she or he could have many happy dancing years there building many happy childhood memories.
Don't be scared to try out a few studios before you settle on one.
Trust I have given you some useful information on finding the best ballet classes for kids. Please comment below if you have anything else to add.