A lot of dance teachers get burnt out and frustrated at certain times of the year. Here is a guide on how to survive teacher stress burnout.
The trick of course is to stay focused and positive, but it, as you know, is easier said than done.
This post may contain affiliate links, which means that a commission will be paid to the website owner if a qualifying purchase is made without any extra costs to the purchaser.
What Causes Teacher Stress Burnout?
Many factors can cause teacher stress burnout. In a dance studio it could be caused by any of the following:
Exam or competition stress
Feeling frustrated that your students are not performing to their full potential
Feeling frustrated at your pupils' lack of enthusiasm
Using up all your energy to try and energize your pupils
Long working hours and not looking after yourself properly
Working when you are sick
To much stress on creativity and finding new ideas for your classes
Perfectionist tendencies which many teachers have – nothing is ever good enough
Pessimistic view of yourself and the world
The need to be in control and a reluctance to delegate to others
High-achieving, type A personality
Sometimes you get the feeling that you are putting everything into your students and your studio, and you are getting nothing in return, and all this energy expenditure leaves you little energy and time to spend with your family. You need to find a balanced work and home environment, as this will also affect your long-term health.
How Do I Know If I am Stressed and Burnt Out?
Here are some of the danger signs:
You feel unappreciated or not good enough
Every day seems to be a bad day
Caring about your work or home life seems like a waste of energy to you
You're exhausted and tired all the time.
The majority of your day is spent on tasks you find either boring or overwhelming
You are battling to sleep and feel tired most of the time
Lowered immunity
Increase in minor aches and pains
Feeling a detachment from others
Using food, alcohol, or drugs to cope
Procrastinating more often
Taking your frustration out on others
You may need to seek some professional help.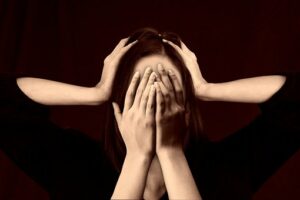 What is the Difference Between Stress and Burnout?
There is actually a difference between the two.
Stress:
Stress comes before burnout. You feel over-engaged and your emotions are overactive. Everything feels urgent and you feel hyperactive but lose energy just as quickly.
The End of Stress: Four Steps to Rewire Your Brain
Burnout:
This usually follows being overstressed. Your emotions are blunted. You feel a loss of motivation and hope. You feel disengaged and sometimes depressed. You may feel life is not worth living. If you reach this stage, you will need to seek out support before things get more out of hand.
Curing Burnout: Recover From Job Burnout and Start Living A Healthy Work-Life Balance Today (Fatigue, Burnout, Burnout Recovery, Recovering From Burnout, Burnout Stress, Burnout Cure Book 1)
Help With Teacher Stress Burnout
Getting a great book on the subject may help you to sort through some of your issues. Seeing a professional in extreme cases is also a good idea.
How about adopting some of these habits:
Start your day by doing something relaxing. Rather than jumping out of bed as soon as you wake up, spend at least fifteen minutes meditating, writing in your journal, doing gentle stretches, or reading something that inspires you. This one works well for me when I manage to wake up early enough.
Make sure to look after yourself. You need to get enough sleep, eat properly, and engage in regular physical activity.
Try not to overextend yourself. Learn the art of saying "no" to requests on your time. If you find this difficult, remind yourself that saying "no" allows you to say "yes" to the things that you truly want to do.
Set a time each day when you completely disconnect from technology. Put away your laptop and turn off your phone.
Creativity is a powerful antidote to burnout. Try something new, start a fun project, or resume a favorite hobby. Choose activities that have nothing to do with the work that you do.
More Tips for Dance Teachers
Sometimes you just need a few days off and a change of scenery to rectify the situation. Remember your student's negative moods and feelings also transfer onto you, and you need to keep yourself positive and upbeat, or your job could seem more like a nightmare.
Remember to take sufficient time out for yourself, eat healthily, and get adequate sleep and this will go a long way to keeping your physical and emotional side in sync.
Remember that you as the dance teacher are meant to be a positive source of inspiration for your students and parents, so looking after yourself first will go a long way to keep you from getting the dreaded teacher stress burnout.