Do your dancers have tight shoulders? Dancers need to be flexible in this area, so here are seven exercises for tight shoulders that you and your students can do in class or at home.
If you are an Acro or Gymnastics teacher and you have students who have tight shoulders, they will most certainly struggle with the basic tricks like Bridge Recovers and Back Walkovers.
Tight shoulders are a very common problem now as children spend a lot more time hunched over technology than they used to, so we as teachers need to give them the tools necessary for success in the dance studio.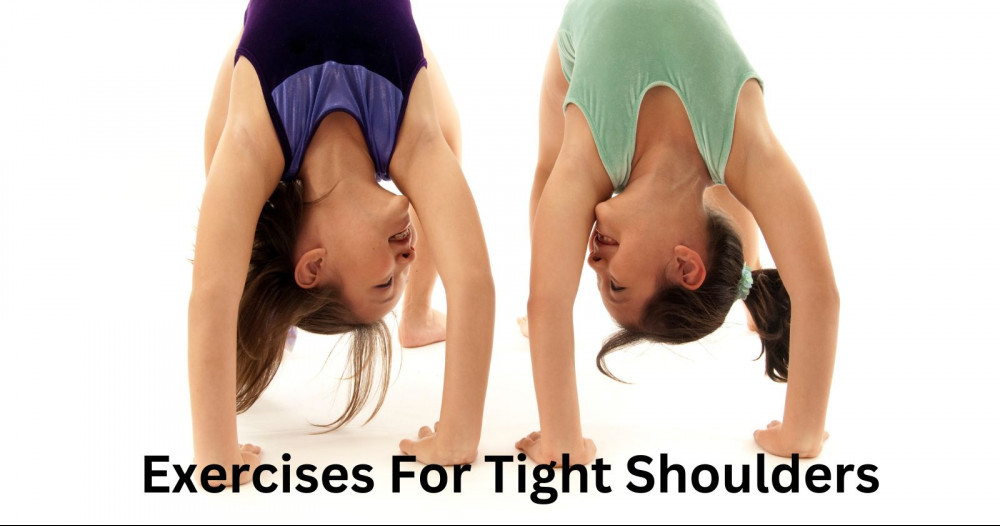 Who Needs Exercises For Tight Shoulders?
If your student pushes up into a bridge, and his or her shoulders are not stacked over their wrists, then this is a sign that your student has tight shoulders. Before progressing to more advanced tricks that use the bridge, it is a good idea to give your student some exercises to help them to get the flexibility that they need to progress further.
For most adults, the neck and the upper back area hold a lot of tension, and the amount of time spent in front of a computer with a forward head and shoulder posture increases the stress on the soft tissue and joints in your neck and shoulders.
Stress can also be a problem, as when you have high-stress levels, your rib cage can drop slightly causing your shoulders and upper back to round forward into a slouch.
Seven Exercises For Tight Shoulders
Here are some simple exercises for tight shoulders that you can give your students to do at home to improve their shoulder flexibility and thus their acro technique. They are safe and easy to do at home.
As an adult, these exercises can benefit you too, as they are not difficult to do and they will help you with your stress levels and posture.
Tight Shoulder Stretch Number 1:
Stand flat against the wall facing the wall. Place the inside of your arm or arms flat against the wall at shoulder height. Walk your arms up the wall and feel how the stretch changes.
Tight Shoulder Stretch Number 2:
Face the bar and hold on with both hands. Walk your legs away from the bar until your back is parallel to the floor. Keep your feet hip distance apart and stick your seat out. Try to keep your elbows close together and sink your chest down to the floor. Feel the stretch happening underneath your arms. At home, your students can hold onto a table or countertop.
Tight Shoulder Stretch Number 3:
Stand with your feet hip distance apart and interlace your fingers behind your back. Bend over forwards and let your arms reach up behind you keeping them straight. Be careful not to put pressure on your elbow joint. Hold the stretch as high as you can.
If you battle to interlace your fingers behind you, use a towel or a strap and grab onto it behind your back with your hands as close together as you can get them.
Tight Shoulder Stretch Number 4:
Do a bridge with your arms as close to the wall as possible. Aim to get your armpits as close to the wall as possible.
Tight Shoulder Stretch Number 5:
This stretch opens your chest and strengthens your shoulders. Start by standing in a doorway with your elbows and arms forming a 90-degree angle. Step your right foot forward as you press your palms into the sides of the door frame. Lean forward engaging your core and hold the stretch for 30 seconds.
Repeat the process with your left foot forward and do each side two or three times in a session.
Tight Shoulder Stretch Number 6:
This one is called the Cow Face Pose. Reach your right arm straight up, bend your elbow, and let your hand fall behind your head. Move your left arm behind your back and bend the arm, letting the back of your left hand rest against your right shoulder blade (or as close to it as possible).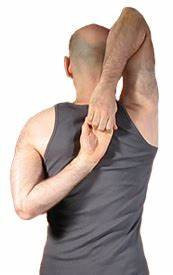 Reach to grab your right fingertips with your left hand. Remember to repeat the exercise on the other side. Again if you can't reach your other hand, a towel or strap is a good option. Remember to press your shoulders down while doing this pose.
Tight Shoulder Stretch Number 7:
Stand next to a wall nice and close. Make slow big circles with the arm closest to the wall getting as close to the wall as you can. Repeat ten times in each direction before turning around to do the other arm.
Please feel free to comment below if you have any other great ideas to get your pupils more flexible in this area, as I am sure I am not the only one who has seen this problem in dance class.