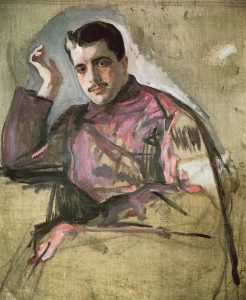 As a ballet dancing lover, it is always interesting to learn snippets of history from the past, and legends such as Serge Diaghilev deserve a special mention.
Today I will focus on Serge Diaghilev. His mantra was "Etonnez-moi" which means astonish me and from the years 1909 to 1929, he astonished audiences all over the Western World.
Who Was Serge Diaghilev
Serge Diaghilev became the Russian promoter of the arts who revitalized ballet by integrating the ideas of other art forms such as drama, art, and music.  Thereafter he toured Europe and the Americas with his ballet company, and he produced three ballet masterpieces by Igor Stravinsky: The Firebird (1910), Petrushka (1911), and The Rite of Spring (1913).
In the four hundred odd years of ballet dancing's history, you will find nothing will quite match the two decades of Diaghilev's Ballets Russes for its thrilling performances, inspired collaborations, groundbreaking choreography.  The Ballets Russes Company led ballet dancing out of the nineteenth century classicism and into the modern age of dance as we know it today.
Diaghilev was a daring visionary and was amazingly enough neither a dancer nor a choreographer, although he did take small parts in some of his productions. He was an art critic, editor, connoisseur, impresario and Russian intellectual with an extraordinary ear and eye for talent.
Some Serge Diaghilev History For You And How He Influenced Dance
Serge Diaghilev was born on the 31st of March 1872 in Novgorod Province, Russia.  His lesser known name is Sergey Pavlovich Diaghilev.  Serge Diaghilev, as I shall call him, was born to a wealthy family.  He was sent to study law at St. Petersburg University, and there he also ended up taking classes at the St. Petersburg Conservatory of Music.
He got his love of singing and music from his stepmother.  After graduating in 1892, he abandoned his dreams, as his professor told him he had no talent for music.  He instead entered into an influential circle of artists who called themselves the Pickwickians.  In two years he absorbed this new obsession of his and even traveled abroad to further his studies.
He eventually came to be respected as one of the most learned of the group.  With some financial backing from Savva Mamontov (the director of the Russian Private Opera Company) and Princess Maria Tenisheva, the group founded the journal Mir Iskusstva (World of Art).
In 1899, Diaghilev became special assistant to Prince Sergei Mikhailovich Volkonsky, who had recently taken over directorship of all Imperial Theaters. Diaghilev was soon responsible for the production of the Annual of the Imperial Theaters in 1900, and promptly offered assignments to his close friends: Léon Bakst would design costumes for the French play Le Coeur de la Marquise, while Benois was given the opportunity to produce Sergei Taneyev's opera Cupid's Revenge.
In 1900–1901 Volkonsky entrusted Diaghilev with the staging of Léo Delibes' ballet Sylvia, a favorite of Benois'. The two collaborators concocted an elaborate production plan that started the established personnel of the Imperial Theatres.  After several increasingly antagonistic differences of opinion, Diaghilev in his demonstrative manner refused to go on editing the "Annual of the Imperial Theatres" and was discharged by Volkonsky in 1901 and left disgraced in the eyes of the nobility.
At the same time, some of Diaghilev's researchers hinted to his homosexuality as the main cause for this conflict.  However, his homosexuality had been well-known long before he was invited and so it could not be the real reason for his discharging, moreover, he would not be invited otherwise.
Diaghilev's friends stayed true to him and followed him and helped him with his art exhibitions.  In 1905 he mounted a huge exhibition of Russian portrait painting in St Petersburg, having traveled widely through Russia for a year discovering many previously unknown masterpieces of Russian portrait art.
In the following year, he took a major exhibition of Russian art to the Petit Palais in Paris. It was the beginning of a long involvement with France. In 1907 he presented five concerts of Russian music in Paris, and in 1908 mounted a production of Boris Godunov, starring Feodor Chaliapin, at the Paris Opera.
This led to an invitation to return the following year with ballet as well as opera, and thus to the launching of his famous Ballets Russes in 1909.  The company included the best young Russian dancers, among them Anna Pavlova, Adolph Bolm, Vaslav Nijinsky, Tamara Karsavina and Vera Karalli, and their first night on 19 May 1909 was a sensation.
During these years Diaghilev's stagings included several compositions by the late Nikolai Rimsky-Korsakov, such as the operas The Maid of Pskov, May Night, and The Golden Cockerel. His balletic adaptation of the orchestral suite Sheherazade staged in 1910, drew the ire of the composer's widow, Nadezhda Rimskaya-Korsakova, who protested in open letters to Diaghilev published in the periodical, Rech.
Diaghilev commissioned ballet music from composers such as Nikolai Tcherepnin (Narcisse et Echo, 1911), Claude Debussy (Jeux, 1913), Maurice Ravel (Daphnis et Chloé, 1912), Erik Satie (Parade, 1917), Manuel de Falla (El Sombrero de Tres Picos, 1917), Richard Strauss (Josephslegende, 1914), Sergei Prokofiev (Ala and Lolly), rejected by Diaghilev and turned into the Scythian Suite; Chout, 1915 revised 1920; Le Pas D'acier, 1926; and The Prodigal Son, 1929), Ottorino Respighi (La Boutique fantastique, 1918), Francis Poulenc (Les Biches, 1923) and others. His choreographer Michel Fokine often adapted the music for ballet.  Diaghilev also worked with dancer and ballet master Léonide Massine.
The artistic director for the Ballets Russes was Léon Bakst. Together they developed a more complicated form of ballet with show-elements to
appeal to the general public, rather than solely the aristocracy. The exotic appeal of the Ballets Russes had an effect on Fauvist painters and the nascent Art Deco style.
Rite of Spring – Diaghilev, although not normally a dancer is third from the left
He assembled troupes of dancers over the years which included Nijinsky, Karsavina, Kchessinska, Spessivtzeva, Markova, Danilova and Lifar. Serge Diaghilev also time and time again cultivated choreographic genius from Nijinsky, Nijinska, Balanchine, Massine, and Fokine.
Serge Diaghilev managed to combine all the above elements like a master chef, and served up the splendors of Russian Dancing to Western Audiences. The works that he did, revolutionized ballet's structure, vocabulary, and technique.
The Ballets Russes became the darling of fashionable Europe and only got better when success became a scandal at the premiere of Nijinsky's The Rite of Spring.  This ballet with its non-balletic movements and the shocking score from Stravinsky provoked a riot from the audience, that continued out onto the streets.
Diaghilev was known as a hard, demanding, and even frightening taskmaster. Ninette de Valois, no shrinking violet, said she was too afraid to ever look him in the face. George Balanchine said he carried around a cane during rehearsals, and banged it angrily when he was displeased. Other dancers said he would shoot them down with one look, or a cold comment.
On the other hand, he was also capable of great kindness, and when stranded with his bankrupt company in Spain during the 1914-18 war, gave his last bit of cash to Lydia Sokolova to buy medical care for her daughter. Markova was very young when she joined the Ballet Russes and would later say that she had called Diaghilev "Sergypops" and he'd said he would take care of her like a daughter.
The Ballets Russes as expected, outlived Diaghilev. He was always afraid of dying in the water, and strangely enough, he died in Venice of Diabetes surrounded by water.
Choreographers after him including Leonide Massine, Bronislava Nijinska, and George Balanchine, continued the tradition of innovation and collaboration. His successor troupes toured extensively for more than thirty years and introduced ballet to many far away places, even as far as the United States.
The existence of today's large and enthusiastic ballet audience is as much a part of Diaghilev's legacy as the ballets that he conceived.
Want to read up on the history of the pointe shoe?
Click here.