I have always found ballet costumes history quite interesting. When you think of ballet costumes, tutus, leotards and pink tights normally come to mind, but it wasn't always so simple. Here are some interesting snippets on some ballet costumes history for you.
This post may contain affiliate links, which means that I will get a small commission if anything is purchased off of this page.
Early Ballet Costumes History
Ballet dancing first took place mainly in Italy and France. The first known performance took place in Milan and soon ballet became the favorite entertainment type for royal families. In those days, performances consisted mainly of folk dancing, acrobatics, singing and playing music.
At that time there were no clothes designed for dancers so they had to perform in regular garments which were not suitable for exercising some of the acrobatic elements.
Early ballet costumes were very ornate and resembled the splendid attire of the royal courts, where ballet was first performed in the sixteenth and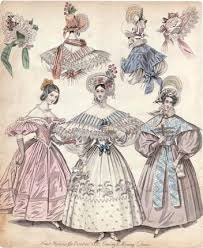 seventeenth centuries. The ballerinas then, wore long multi-layered gowns supported by hoop skirts as large as six feet in diameter.  The costumes were normally encrusted with jewels. The dancers would have felt naked without their heavy wigs and enormous elaborate headdresses.  It must have been quite a challenge to walk and breathe, let alone dance.
Men wore silk hose and short breeches, with fitted doublets or jackets to display their turned-out, well muscled and beautifully shaped legs.  Both men and women danced in party shoes that had buckles and bows with fairly high heels. In France the courtiers were allowed to paint their heels red, which was a status symbol and the start of the phrase 'well heeled'.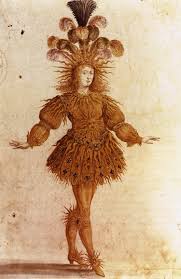 In the eighteen century, Marie Salle and Marie Camargo led the rebellion against restrictive and cumbersome clothing.  They bought in loosened gowns, shorter skirts and flatter slippers. This made it much easier for dancers to dance with the freedom that was needed. Now without all the long cumbersome skirts, the intricate footwork could not be seen.
By the end of the 17th century ballet dancing became a professional occupation. Ballet dancers were no longer viewed as royal court entertainers but as professional artists. Ballet gradually moved to the theaters and soon the first ballet academy was founded, which was the Academie Royale de la Danse patronised by Louis XIV of France.
At the same time the first opera theater was opened in Paris. Ballet became more codified and incorporated new turns and pirouettes which made women expose their legs when dancing. It was against existing moral principles so female dancers had to wear special drawers as ballet dancers tights were not invented yet. To preserve their modesty, they wore a new article of clothing under their skirts called calecons de precaution (modesty panties). These panties were made of muslin and had adjustable drawstrings that could cover the area between the top of the ballerina's stockings and her waist.
Men replaced their knickers with fitted hose that went all the way up to their waists and wore their own form of modesty brief.
Ballet Costumes History From the Nineteenth Century and Beyond
Then following the fashion of the nineteenth century, ballerinas adopted gowns that were simpler and even lighter. This is when the romantic tutu was first seen.
In 1832 Marie Taglioni performed her famous role in the ballet La Sylphide in a new mid-calf length dress. It featured an airy white skirt and a bodice which didn't cover her shoulders and arms. Now, Taglioni's dress is called a romantic style tutu and is one of the main tutu types.
A few decades later an acrobat by the name of  Jules Leotard invented a snugly fitted one-piece garment which was named after him. Leotards became 'must haves' for acrobats, gymnasts and ballet dancers alike.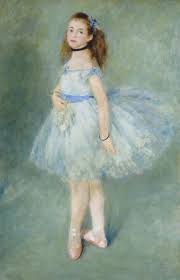 By the late nineteenth century, skirts had shortened even more, culminating in the costume we most identify with ballet today – the tutu. Italian ballerina Virginia Zucchi was the first to wear a tutu, as she did not want to perform in a skirt fit for a grandmother. The Imperial Theater authorities tried in vain to get her to lengthen her skirt.
Modern day costumes reflect the upheavals in ballet since the classical period. In the early twentieth century, Leon Bakst designed voluptuous and opulent oriental costumes for the Ballet Russes.  Diaghilev was amongst the first to tap into the fashion world when he hired Coco Chanel, amongst other well known dress designers, to design his dance costumes.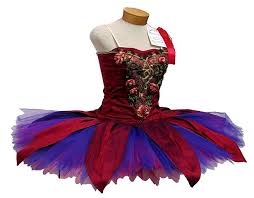 Leotard ballet's became revolutionary with simple studio attire.
Present day ballet dancers wear unitards, leotards, leggings, shorts, ballet skirts, tutus and dance tops. Dancers also have full body 'warmups' to keep their muscles warm before and during their training sessions.
The twentieth century has broken all the rules, as today's costumes can be anything or quite literally nothing. But never the less, it remains exciting. Ballet costumes history and clothing has come a long way to look the way they do today.
Want your own romantic tutu. Here is one you can purchase online.

Or maybe you would prefer a more modern looking tutu.