I have placed some links below as to what are the best shoes for Mortons Neuroma and for your convenience you can purchase these online. These are affiliate links, which means if you do decide to purchase something, I will get a small commission at no extra cost to you the buyer.
What Is Morton's Neuroma And How Is It Caused?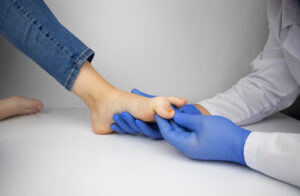 Morton's Neuroma, Morton's Metatarsalgia, or Interdigital Neuroma are all the same foot ailment, which was named after Dr. Morton who first described this condition in 1876.
It is not known what exactly causes Morton's Neuroma, but it is a condition that affects one of the nerves that run between the long bones (metatarsals) in the foot.  Some doctors say it is caused as a result of long-standing (chronic) stress and irritation of a plantar digital nerve.
Morton's Neuroma is not the most comfortable foot condition to have, especially for dancers, as symptoms include pain, burning, numbness, and tingling between two of the toes of the foot which are affected.
Because the space between the second and third Metatarsal and the third and fourth metatarsal is narrower in the foot, these nerves are more likely to be irritated and compressed, especially when wearing narrow shoes.  Dancers must be extremely careful that the pointe shoes they wear are not too narrow.
Most of the time Morton's Neuroma can be controlled by changing or modifying your shoes (not always possible for dancers).  In more chronic and long-standing cases, surgery is the only option.
More women than men seem to suffer from this condition, and it is probably due to the fact that they wear high heels, and of course, ballet dancers wear pointe shoes which doesn't help matters much.
The pain is normally relieved by taking the shoes off and massaging the affected area.  Stretching the calf muscles can also help to relieve the tension in the foot.  Here are some products that will help to alleviate foot pain associated with Morton's Neuroma.
Products That Will Ease Mortons Neuroma
FOOT PAIN RELIEF- orthotic insoles for treatment of Plantar Fasciitis, Heel Pain, Morton's Neuroma,  and Bunions.

ARCH SUPPORT- Full-length orthopedic insoles contour the Arch to support Flat Feet and Over-Pronation.

CUSHIONING- Quality EVA foam with extra Cushion under heel and ball of the foot. Soft yet really supportive.

FOOTWEAR- Can be used by Men or Women in Runners or other Shoes. 5 SIZES- can be trimmed if needed.

100% GUARANTEE- If you're not completely satisfied with our Foot Orthotic Inserts you will be refunded.
These are used for interdigital Morton's Neuroma and work by spreading the bones at the base of the toes that are pinching nerves.
This is a soft elastic sleeve that fits over your foot comfortably.  It has an extra soft gel pad that enhances cushioning and eases the pain.  The toe loop maintains proper positioning and prevents slipping.
I don't have Morton's Neuroma, but I like to wear these inside my shoes when I stand a lot for extra cushioning.
Metatarsal pads eliminate the burning sensation in the ball of the foot, as well as painful discomfort caused by Morton's neuroma.

Our shoe pads applied to the ball of the foot will adapt to the shape of your feet, providing support, mitigating pain, and decreasing the pressure of body weight on the metatarsal bone.

Foot cushions for the ball of the feet help to prevent the disease's progression, facilitate your everyday life, and soothe the long-lasting burning feeling in your forefoot.

They can be easily washed and dried.

Forefoot pads can be used in any shoes.

Pads are made of durable medical-grade silicone, with breathing holes on the back.

By wearing this pinky toe separator, you can create some distance between the adjacent toes, and the distance between the little toe and the surface of the shoes. Thus, you can ease toe pain from the overlapping toe and eliminate the possibility of the shoe rubbing the toes.

Three holes separators are little devices that are used to place between your toes so as to help stretch and loosen the tense muscles in your toes. These are useful in providing you relief from the overlapping toe, curled toe, corn, rubbing toe pain, or other foot pain.

If you have Morton between the 4th and 5th toe, or 3th and 4th toes, you may consider buying a forefoot pad to cushion and reduce Morton's pain. Our triple toe separators create a spacer between toes, which helps to stretch your foot out to relieve pain when on your feet.

Povihome little toe spacer is made of super-soft silicone. They are useful in separating and protecting pinky or smaller toes. These are not sturdy enough to totally straight toe, like hammertoe, crooked toes.
Metatarsal pad is selected from high-quality gel material which has a delicate touch, soft and comfortable texture, you can pull as your requirement without deformation. Reusable and washable.

Soft gel pads have plenty of air holes for additional ventilation, which help reduce feet swelling, pain, and discomfort during the working day.

Protect the soles of the feet, relieve foot pain, enjoy long rides, walking, shopping, dancing, and sports.
What Are The Best Shoes For Mortons Neuroma?
Mortons Neuroma sufferers need comfortable shoes that are wider in the toe area. It may also be a good idea when it comes to what are the best shoes for Mortons Neuroma to wear a shoe that the heel is set lower than the toes to reduce pressure on the ball of the foot.
These are some that you can buy online that are super comfortable and have space for your toes to spread. These are some of the best shoes when it comes to what are the best shoes for Mortons Neuroma that I have found online.  If you are interested in finding out more, simply click on the blue link or the picture.
These are so comfy, you will not want to take them off.
A highly unusual shoe, but this style is becoming popular in the workout field.
Leather with a rubber sole.

If you are still wondering what are the best shoes for Mortons Neuroma, this one, although odd works a treat.
Genuine full-grain soft leather accommodates every curve of the foot.

Easy slip-on style with hook and loop closure ensures easy on/off and a great fit.

Forefoot EVA cushioning cushions the ball of the foot and toes, which is a bonus if you are on your feet all day.

Built-in Z-Orthotic protects plantar ligaments.

A wide toe box prevents toe irritation, which is perfect if you suffer from Morton's Neuroma.
Air Cushion Soles.

Great for dance teachers or people that are on their feet a lot.

Boxed toe for toe stands, super lightweight and flexible just like socks, breathable.

MD out-sole with air cushion.

The high-quality rubber material is non-slip and wear-resistant.

The platform measures approximately 1.96".

These shoes are suitable for plantar fasciitis, Mortons Neuroma, 

nursing, fishing, gardening, travel, driving, jazz, tap dance, street jazz, ballet, folk dance, Zumba, athletics, or workouts.
Comfortable and stylish.

Orthofeet orthotic shoes offer relief from Plantar Fasciitis, Heel Pain, Mortons Neuroma, and other foot pain you may be experiencing.

Anatomical Arch Support and multiple Cushioning layers provide soft, Pillow-like support that works wonders to enhance comfort and ease the pain on the foot and heel, all the way up to your knees, hips, and lower back.

Wide fits offer relief from bunions, hammertoes, swollen feet and also great for people with diabetes. Ample space for custom-made orthotics.
Hope you find this post entitled 'what are the best shoes for Mortons Neuroma' helpful. Please comment below and let me know if you have found something better.
For more reading on foot problems, click here.