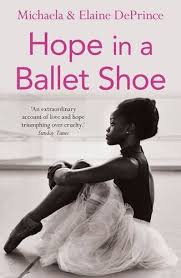 Hope in a Ballet Shoe is a book that I just recently finished reading. I really enjoyed this book as it was a true account of dancer Michaela DePrince and her struggles as a child coming out of war-torn Sierra Leone and being adopted by Elaine and Charles DePrince, who were part of an American Family. Michaela was born in 1995 and taken to America in 1999.
This post does contain affiliate links. If you would like to find out how you can get your own copy of this book, simply click on the picture of the book. If you decide to purchase it, I will get a small commission at no extra cost to you.
Her passion for dance came about when she found a copy of a dance magazine when she was very young, with a ballet dancer on the front cover doing a retire en pointe. Michaela wanted to be just like that ballerina, and Hope In A Ballet Shoe tells of her lifelong passion for classical ballet and how she beat all the odds to achieve her dream.
The beginning of the book is very sad, as it tells of her life, the poverty, the loss of her parents, abuse from her uncle, and experiences of death that she faced when she lived in Sierra Leone.  Expect to shed a whole lot of tears when reading this part of the book.
To top it all she also suffers from a rare skin condition called vitiligo, which she was also teased about as a child.
Here is a preview of the book taking flight, which is the other book title about her life, very similar to Hope in a Ballet Shoe.
Once she gets adopted by Elaine and Charles DePrince, along with her best friend Mia, her life is changed forever, but she still battles with her inner demons and nightmares from her childhood. She also has lots of struggles because of racism. Being a black classical ballerina just wasn't heard of back then.
Michaela DePrince shot to fame when a ballet documentary featured her.  The documentary was called First Position and you can read more about it here.
Today she is an international ballet star and dances with the Dutch National Ballet Company.
Here is a video of her dancing a contemporary variation. Watch those beautiful suspended poses of hers.
Hope in a Ballet Shoe: Orphaned by War, Saved by Ballet: An Extraordinary True Story
Hope in a Ballet Shoe Book Review Found Online
"This is an amazing story on many levels.
The horrifying events and devastating losses of Ms. dePrinces' childhood could easily have left her filled with fear, hate, despair, and the inability to function at all.
Fortunately, this is an incredibly strong and determined child who moves through girlhood into womanhood with fierceness and grace.
It is also fortunate that she had contact with caring people at various critical moments and was adopted into an almost magically caring and loving family.
My only concern about this book is that the horrors of her own childhood make this story of dedication, determination, and devotion unsuitable for young girls to read.
Ironically it takes a certain level of maturity simply to read about the early years of this gallant and graceful young woman's life, but what an inspirational and eventual story it is."
What Is Michaela DePrince Doing Now?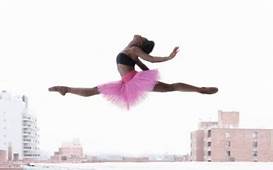 She has decided to take a break from the Dutch National Ballet Company and you can read more about her decision here.
If you enjoyed Michaela's story, you will also love Misty Copeland's.