This website wouldn't be the same without an article devoted to Sir Frederick Ashton. He is regarded as the 'Foundling Father of Britsh Ballet' and he developed the English Style of ballet dancing.
The Life Of Sir Frederick Ashton
Doing an article on Sir Frederick Ashton is like writing about the history of the Royal Ballet, so here goes…..
Sir Frederick Ashton was born in 1904 in Ecuador. He was the fourth of the five children of George Ashton (1864–1924) and his second wife, Georgiana (1869–1939), née Fulcher. George Ashton was manager of the Central and South American Cable Company and vice-consul at the British embassy in Guayaquil.
In 1917 he went to see Anna Pavlova in Lima and the revelation of her dancing set the course for his whole life. He ended up being a British ballet dancer and choreographer, and he also worked as a director and choreographer in opera, film and revue.
Dancing was not a career acceptable to a conventional English family at that time. Ashton later recalled, "My father was horrified. You can imagine the middle-class attitude. My mother would say, 'He wants to go on the stage.' She could not bring herself to say 'into the ballet.
Ashton's father sent him to England in 1919 to Dover College, where he was miserable. Homosexual, and with a distinctly Spanish accent that his classmates laughed at, he did not fit in at a minor public school of the early 1920s. He was not academically inclined, and his father decided that on leaving the school in 1921 Ashton should join a commercial company.
He worked for an import-export firm in the City of London, where his ability to speak Spanish and French as well as English was an advantage.
In January 1924 George Ashton committed suicide. His widow was left financially dependent on her elder sons, who ran a successful business in Guayaquil. She moved to London to be with Ashton and his younger sister, Edith.
The lure of dancing was too great and he started lessons (in secret) with Massine (who had opened a school in London at the time) at the late age of twenty. He then went to work with Marie Rambert who encouraged him in his choreography. While still a student he did his first choreography called A Tragedy of Fashion, or The Scarlet Scissors. It was used in Nigel Playfair's revue Riverside Nights at the Lyric, Hammersmith in 1926.
He then joined the Ida Rubinstein Company in Paris. There he appeared in several ballets by Bronislava Nijinska, who was Rubinstein's choreographer. During this time he was able to learn invaluable lessons in the art of making ballets.
After a year he returned to Rambert as a dancer and choreographer for the Ballet Club performances organized by Rambert, which were the cradle of so many English choreographers. He was also to make ballets for the Camargo Society in the early 1930s, including the delectable Facade in 1931, and for the young Vic-Wells Ballet- for whom he created his first major ballet Les Rendezvous in 1933.
Ashton's association with Ninette de Valois, founder of the Vic-Wells Ballet, began in 1931, when he created a comic ballet, Regatta for her. In 1935 Ninette de Valois asked him to join the Vic-Wells ballet permanently as dancer and choreographer.
In the years leading up to the outbreak of the war, Ashton composed a series of ballets which were to be of inestimable value in establishing the Vic-Wells reputation. Le Baiseer de la Fee in 1935, Apparitions in 1936, Nocturne in 1936, Les Patineurs ing 1936, A Wedding Bouquet in 1937, Horoscope in 1938, as well as three slighter pieces namely Judgement of Paris, Harlequin in the Street, and Cupid and Psyche.
In 1940 he made Dante Sonata and The Wise Virgins, but service in the Royal Air Force interrupted his career, and he was only able to make one ballet called The Quest in 1943 during a brief leave from his military duties.
With peace and the Sadler's Wells Ballet's move to Covent Gardens in 1946, Ashton's creativity was given a fresh stimulus with the need to produce full-length ballets. He had already made his Covent Garden debut with Symphonic Variations in 1946. He made two more short ballets, namely Les Sirenes in 1946 and Scenes de Ballet in 1948 plust a work for the Sadler's Wells Theatre Ballet in 1947 called Valses Nobles et Sentimentales.
In 1948 he created Don Juan, following it with his first long work – Cinderella.
In 1949 he did Le Reve de Leonor for Roland Petit and the following year his first ballet for the New York City Ballet – Tiresias And Daphnis and Chloe, plus a staging of the Snow Flakes and Kingdom of Sweets scenes from Nutcraker for the Sadler's Wells Theatre.
He made a second ballet Picnic at Tintagel in 1952 for the New York City Ballet , and the brief Vision of Marguerite for the Festival Ballet in the same year, which also included a version of Delibes' Sylvia for the Royal Ballet.
The festivities of Coronation Night in 1953 included Ashton's Homage to the Queen, and his next major creations were Variations on a Theme of Purcell and Rinaldo and Armida given jointly in January 1955. Four months later he created Madame Chrysantheme at Covent Garden, and then staged his next full-length work, Romeo and Juliet, for the Royal Danish Ballet in May of that year.
La Peri and Birthday Offering (for the twenty-fifth aniversary of the Royal Ballet) followed in 1956, and two years later he stage La Valse for La Scala, Milan, which entred the Covent Garden repertory in the following year. In 1958 he composed the three-act Ondine for Covent Garden, and in January 1960 he made the first of his two-act ballet, La Fille Mal Gardee, which was followed the next year by Les Deux Pigeons.
In 1961 he did Marguerite and Armand as a vehicle for Fonteyn and Nureyev.
For the Shakespeare quartercentenary celebrations in 1964 he mad e The Dream and at the Royal Ballet Benevolent Fund Gala in 1965, he staged the brief, lovely Monotones I, to which he added the second Monotones the following year.
In 1967 came another ballet for the Royal Ballet's Touring Section, Sinfonietta. In 1968 he created two works for the Royal Ballet at Covent Garden namely the light-hearted Jazz Calendar and the sensitive Enigma Variations.
These were followed by three work in 1970 when he had just relinquished the directorship of the Royal Ballet. Lament of the Waves, a duet for Carl Myers and Marilyn Trounson at Covent Garden. He also did The creatures of Prometheus first given in Bonn by the Royal Ballet touring Section, and the choreography for the film The Tales of Beatrix Potter.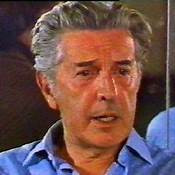 For a while after this Frederick Ashton produced little of any importance until 1976, when he created A Month In the Country for the Royal Ballet, although his Five Brahms Waltzes in the Manner of Isadora Duncan provided Lynn Seymour with a superb opportunity to evoke the presence of the great dancer within her.
Within Ashton's ballets lie a portrait of the company, their range, its dancers' style and abilities. As Ashton's genius has developed, so has the Royal Ballet. The mutual stimulus existing between a choreographer and his company, between creator and instrument, and notably with Ashton between him and Margot Fonteyn, (their association having lasted longer and more fruitfully than any other in the history of ballet) has made for great ballets and a great company.
Sir Frederick Ashton is a classical choreographer. In his ballets we sense a temperament that has all the classical virtues of harmoney, restraint, control of means, and yet his choreography is full of emotion, poetry, passion, but still ordered and refined to maximum effect by his understanding of the ballet and very importantly his sensivity to music.
His craftsmanship is admirable and his skill in constructing a ballet no less so. He is especially good at pas de deux. These gifts of his have been of inestimable importance in creating the Royal Ballet and the British school of dancing.
He died on the 18th of August 1988. His last choreographic work was done just two years before his death.