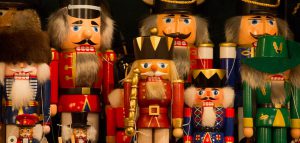 Everybody loves the Nutcracker Ballet, and if you have a special somebody in your life that is ballet-mad, there could be the perfect gift for them in the form of Nutcracker Ballet Gifts. Here are some wonderful Nutcracker Ballet Gift Ideas. Best of all, you can buy all these gifts online, hassle free.
The wonderful thing about buying gifts online is that they are delivered directly to your door, saving you the headache of going out to look, pick and buy the item. These are affiliate links, which means that I will get a small commission if you do decide to purchase something, but that doesn't affect the low prices that you will pay.
I think I am going to do all my Xmas shopping online this year, and avoid the crazy malls. If you need to find out more about one of these Nutcracker Ballet gift ideas, simply click on the picture.
Awesome Nutcracker Ballet Gift Ideas
Nutcracker Ballet Playing Cards
Wow, now a simple pack of cards can turn into a ballet fantasy. As you can see, the cards have beautiful full-colour illustrations of all your favorite Nutcracker Ballet characters at the back. For the price of $9.95, these cards make a really special and unique gift.
Reviews:
"My daughter danced the role of CLARA in the Nutcracker this year…she also loves playing "DUTCH BLITZ/NERTZ"…these were the perfect cards for her to enjoy! Love the larger print, too…"
"Got these for my Grandma for Christmas for her bridge parties. They were very pretty and shipped right on time."
You can even throw in some
Glitter Nutcracker Ballet Stickers

for $1.79 to go with the cards.
Reviews:
"Who doesn't delight in experiencing "The Nutcracker Ballet" at Christmastime! These bits of 'fairy dust' were the perfect extra little touches to give to my niece along with the Nutcracker book, complete with stand-up paper characters and backdrops for 3 acts."
"My grand-daughter is really into The Nutcracker, so I was looking for Nutcracker Ballet gift ideas for her. I found this and so I purchased it for her. It's a tiny book and perfect for small hands. It doesn't have a lot of stickers but, for the price, I didn't expect a lot. Like most of the Dover books, it is a nice quality. All the stickers are very pretty and glittery. It arrived promptly and was packaged well."
Poly Resin Nutcracker Suite Miniature Ornament Set
This gorgeous set of resin ornaments will look stunning on any Christmas Tree. There are eight pieces and they go for around $30.50. They make wonderful Nutcracker Ballet Gifts.
The ornaments are very nicely made and almost have an antique and hand-made look about them.
There is a Chinese Dancer, an Arabian Dancer, Clara and the Sugar Plum Fairy which make up some of the female cast. Then we have the Godfather, a Soldier, a mouse and of course The Nutcracker which makes up some of the male cast.
Reviews:
"These little ornaments are perfect for my tabletop tree, maybe next year I'll get the full sized ones for the big tree. Really lovely ornaments of one of my favorite stories. These are nicely detailed and were packaged well to prevent breaking."
Kurt Adler Hollywood Ballet Nutcracker
This is an 18-inch model and is part of the Kurt Adler Hollywood Nutcracker collection. Other models in the collection include the gingerbread man, the frog prince, soldier, and a Christmas Tree, amongst others.
The ornaments are made with a lot of detail, and in this one, I love the little ballerina's going around the Christmas Tree on The Nutcrackers head.
The ornament and most of the others are going for around $68.99 and are real collectors pieces.
Reviews:
"More lovely than I anticipated! I wish you had been there when it was opened by our grand-daughters. At first, they were stunned then gasped with delight and danced around the room! The second one I ordered went to a teen who had just soloed in Nutcracker.her mother decorated her room in all white twinkle lights and this gift was waiting for her! Magical memories and sweet tears of joy thanks to your beautiful nutcrackers."
"Nothing short of BEAUTIFUL. My sister collects nutcrackers & I felt this would be perfect with the Christmas tree and ballerinas atop since she also loves the ballet. Highly recommend."
"I love Hollywood Nutcrackers and they are always so original, but this is one of my new favorites!"
Glitterdomes 120mm Exclusive Nutcracker Ballet Musical Glitter Dome
This Glitter dome features Clara and The Nutcracker dancing around a Christmas tree and is a great collectors piece. It is on special for a limited time for around $46, but I don't know how long this price will last.
Reviews:
"This dome is a lovely addition to our collection. Beautifully detailed, figures glide smoothly and the music pleasing in tone and clearness. The story of the Nutcracker is a Christmas tradition known by young and old and this globe revives fond memories. The Roman globes are the ones to purchase ~ having purchased several, I have never been dissatisfied or disappointed."
"Lovely dome and I looked at a lot of domes. This one has realistic and well-done figurines. The music is nice and not too loud. My daughter likes it very much. I know it will be a forever keepsake for her. It is quite large. We keep it inside of a cabinet with a glass door so that you can see it well. This particular Nutcracker Dome is a real winner."
I hope that this post on Nutcracker Ballet Gift Ideas has helped you a little with your Christmas Shopping List, and given you some great ideas. Please feel free to comment below if you already own any of the above items.