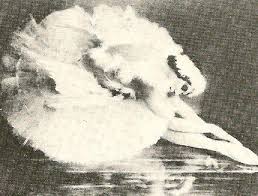 The Anna Pavlova Biography proves to be both interesting and compelling. She led a short life but achieved so much. She also managed to accomplish all her dreams, something most people don't manage to do in a lifetime.
Anna Pavlova was born in 1881 outside St. Petersburg. She saw a performance of The Sleeping Beauty as a child and resolved that some day she herself would be a Princess Aurora.
She had poor turnout and weak feet, along with a spindly body, which made a ballet career look impossible for her, so it took a few years before the Imperial School of the Maryinsky Ballet accepted her into their program.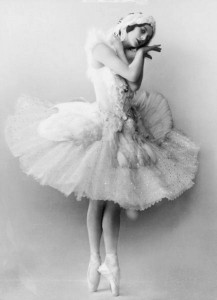 Anna Pavlova took advantage of her strong points, which were extension, ballon, a pliable torso, expressiveness, a feminine delicacy, and she worked like a trojan. She also had the best teachers, including Enrico Cecchetti, Nicholas Legat, Pavel Gerdt and Christian Johansson.
She excelled in the classical repertory at the Imperial Theater, and Petipa even reworked Giselle to showcase her Romantic qualities.
But it was the choreography of Mikhail Fokine that immortalized her in 1905. The Dying Swan, originally, The Swan, was a solo depicting the last moments in the life of a swan. It was not a difficult dance technically, but Pavlova's genius transcended the sentimental melodrama of the piece and her emotional style thrilled audiences. This became her signature ballet. Here is a video clip  of Pavlova dancing The Dying Swan below.
Ana Pavlova performed with Diaghilev's Ballet Russes in 1909, then formed her own company in 1910.
She then toured the globe for nearly two decades and became ballet's most influential ambassador by inspiring balletomania thousands of miles away from her native Russia. Frederick Ashton saw her in Peru and decided to devote his life to ballet.
Pavlova was famous for roles that required beautiful lines and fluid movements, like flowers, dragonflies and swans. She was the most famous ballerina of her time and she chose not to have an operation that would save her life because it would have meant giving up dancing.
Her last words before she died of pleurisy in 1931 were "prepare my swan costume."
Anna Pavlova Biography
If you would like to read up more on the story of Anna Pavlova, here is a beautiful book you can purchase about her life story. It is one of the best ballet history books on the market today.
Like celebrities of today, she toured the world, endorsed beauty products and department stores, appeared in fashion magazines, and even made a Hollywood movie.
But her passion was always ballet, which she sought to bring to as wide an audience as possible.
Many of the works she brought with her from Russia are regarded as the foundation of today's classic ballet repertoire. This book offers an intimate look at the legendary ballerina whose name still resonates 80 years after her death.
This richly illustrated book has now been revised to include an entirely new chapter on Pavlova's tours.