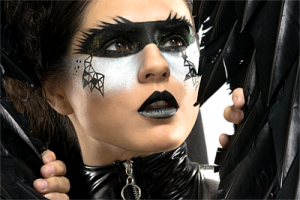 As a dancer, it is great to know how to apply eyeliner to make eyes look bigger, as well as get your stage makeup just perfect. It is not just about the eyeliner, but also about the rest of your eye makeup. Here are some tips for applying makeup for that big performance or even a dance recital.
Here are some tips for applying makeup for that big performance or even a dance recital.
The main trick to remember when applying stage makeup is to always aim to look overdone or over made up. The reason that you need to put on tons of makeup is that you will be performing for an audience sitting quite far away from where you are dancing, so you need your features to stand out more than they normally would.
Stage lighting tends to drain the colour from your face, so you will need to keep your face bright with the use of makeup.  With very bright lighting try using cream instead of white.  On the stage browns work better than blues and purples.
How To Apply Eyeliner To Make Eyes Look Bigger
In order to make your eyes look bigger on the stage, you need to have a great eyeliner and eye make-up. Here are a few good examples that you can use on the stage. And these are all great to keep in your make-up kit. Shany especially is sweat-proof, which is ideal for performers.
SHANY talc free and hypoallergenic, smudge proof gel liners / eye liner gel

Gel eye liners will help you create professional precise lines and definition

Quick-dry formulation lasts all day / all night and is water-proof/ sweat-proof

Variety of long-lasting shades that is perfect for work wear or stage performances

Designed and manufactured in USA – not tested on animals – proud member of PETA
This gel-based liner goes on smoothly and will you give you that professional precision. These luxurious shades that are perfect for all skin tones and ages. Our rich long-lasting formulation is talc-free and water-proof/ sweat-proof, which is very important for the stage.
High Impact Vibrant Color

Won't Smudge

Long Lasting

Stage Quality

Also Useful for Special Effects
A white eye liner is essential to any performers kit, as you can use it to line your eyes in between the black eyeliner to make them look huge. A great trick on how to apply eyeliner to make eyes look bigger in general is to apply white to the inner lower lid.
Any stage performer will also need a kit of eyeshadows in many different colours, depending on the role that you are playing. This one is a good choice.
78 Colors Eye-shadow Blush palette in an elegant black case with Mirror

60 Eye shadow fashionable colors, highly pigmented and perfect for layering

12 Highlighting and liner shades , Great for under eyes and contouring

Used by well-known makeup artists cross the nation on runway stages

Designed in USA with team of professional makeup artists. 
Try the following tricks on how to apply eyeliner to make your eyes look bigger. It is of course not only about the eyeliner, but also about the rest of the eye makeup:
With liquid or gel eyeliner, line the upper lid carefully just above the eyelashes, and the lower lid just below the eyelashes. Keep the eyeliner more towards the outer part of your eye especially at the bottom.
If you take the line a couple of millimetres below the lower lashes, your eyes will look huge from far away.
Make sure your brows are defined, so line your brows or colour them in with eyeshadow.
A red dot on the inner corner of your eye also helps your eyes to stand out.
The colour you use on your eyes must be boldly applied.
The darkest colour should go in the crease of the eyelid.
False eyelashes on the outer corners of your eyes add impact.
Extend the line of the eyeliner a little outwards and upwards from the outer corner of the eye.
Don't forget the waterproof mascara on both the top and bottom lashes, as this finishes off the eye makeup, and makes the eyes look bigger. Put more mascara on the outer eyelashes. Eyelash curlers also help a lot here.
These are some things to avoid doing when it comes to applying stage makeup:
Lining the eyes in solid black eyeliner.
Shiny foundation or foundation that is too dark.
Leaving the brows undefined.
Putting too much blush on the apples of the cheek.
Avoid yellow if you can, as it tends to come up as white.
When dancing on stage also take into account that you will be sweating a lot, so remember to use water resistant or sweat proof makeup as far as possible.
How this has helped you with how to apply eyeliner to make eyes look bigger as well as other makeup tips.
If you have any other great tips, please add them below.