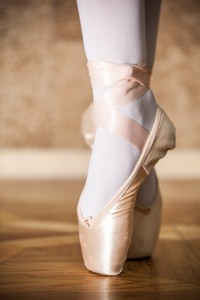 Here is a post dedicated to the subject on how to dance with pointe shoes, as it is not as easy as ballerina's make it look.
It is the dream of every little girl who does ballet to dance in pointe shoes. In fact, all my pupils at some stage of their training ask me when they can buy their first pair of pointe shoes. Ballet is the only dance form that uses pointe shoes, although I have seen other dance forms lately attempting to adopt dancing on their toes for various shows or competitions.
Of course, the reality of dancing with pointe shoes is quite a different story and not a glamorous one at that. There are blisters, ingrown toenails and varying degrees of pain to deal with. Learning to dance 'en pointe' is a long training process that takes years.
Pupils have to work slowly to develop the required strength in their feet and ankles before they start to do the complicated steps that they see the stars doing. There are no short cuts here, otherwise, you could be putting yourself in danger of getting permanent injuries.
Here is some practical advice for teachers and pupils who are learning the art of pointe work.
How To Dance With Pointe Shoes
How To Strengthen the Feet
If you want to know how to dance with pointe shoes, you must know that you won't be able to do this properly until you have strong feet.
When doing your normal ballet class, make sure all your movements are with your feet using the floor. There should be a feeling of pushing the floor away from you whenever you do a tendu. Your feet and the floor need to become good friends, and your feet need to use the floor with pressure in order to get strong enough over the years to master pointe work.
Here are a few more great ways to strengthen the feet:
While sitting curl foot into a c-shape to strengthen arch and hold for a while.
Walk while rising and lowing through the demi point, preferably working with no shoes.
Write the alphabet in cursive with your feet, one foot at a time.
While sitting push toes into the floor with pressure to arch feet (like pushing a towel underneath foot). Hold for 10 seconds.
Scrunch up a towel with the feet.
Keep the heel on the floor in one spot and push the towel side to side with the toes.
Sit flat on knees to stretch the front of the foot.
Put the front of the foot against the wall with the foot flat and slowly stretch the knee and try to keep the top of the foot on the wall.
A good exercise to start with is standing parallel facing the bar. Place foot on the calf and step up to 1st before lowering through the feet. You can also do plies and rises then straighten legs turned in or out.
Do multiple rises and releves every week, on two feet and one foot.
Notes For Teachers
What Exercises Should I Start My Pupils With En Pointe
When you dance in your pointe shoes for the first time, walk, run, and skip in the shoes first to get used to them. They will feel totally different from the normal ballet slipper, and your foot will have to work a lot harder to make the shoes point and look good.
All pointe work should be done with the support of a barre or a partner, to begin with. Gradually the student places less weight on the bar and more on his or her toes.
Many repetitions of rises and releves on two feet and then moving from two feet to one foot are required here. This is how to dance with pointe shoes in the beginning until your feet get stronger.
Be very careful of the overarched foot – the sole of the shoe must first be softened. Make sure the knuckles of the toes don't bend when standing on pointe. The overarched foot will need more strengthening than the average foot in general.
Rolling feet in or out places strain on the ankles and knees, so insist on the student/dancer getting this right.
Here are some exercises for teachers to try with their pupils:
Stand parallel 1st on point and go from one foot to the other through demi point. One foot goes down as the other goes up. Both feet are ¾ point at the same time.
Facing bar, do battements tendus to each position and releve in each position.
Releve 5th and then retire devant 3 x, then retire passé to repeat on the other side.
Releve 5th and release back foot to do petit pas de bouree piques.
To teach courus do small foot changes on point. Little courus on the spot with slightly relaxed knees. Then go along bar facing it leading with the back foot.
Do walks up on toes.
Echappe to 2nd, not too wide and hold for 3 counts before closing to strengthen the feet.
Echappe to 4th and hold. Make sure they stretch through the backs of knees.
Once they are stronger you can bring them into the centre for echappes.
Once your pupils are more experienced try:
Rises through ¼, ½, ¾, and up in 1st, 2nd and 5th. Show resistance in heels when going down.
Demi Plies and rises.
Tendu's and Echappes.
Echappes and Detournes.
Releves two feet to one foot.
Pas de bourees Piques and Courus.
Courus on the spot with coupe over.
Up in 5th and move one leg at a time back, front, back and rest on point changing weight.
Walk along bar and back by bringing feet over, over, over and then under, under, under. (emboites)
Centre:
Releves devant and derriere with Echappes.
Walks with developes coming down through the feet.
Try to always work beyond your syllabus requirements. The process is slow and tedious, but this is how to dance with pointe shoes as you gradually get stronger and the idea is to make dancing on pointe look effortless.
How Do You Know If You Are Ready To Dance In Pointe Shoes?
Never start a beginner on pointe. Even an adult should have a minimum of two years of dancing experience first.
The normal age varies between 11 and 14 years, although later is better. Rather start later than earlier when learning how to dance with pointe shoes as the bodies must be mature and strong and growth in the foot must be settled. Never start pointe work before puberty.
The pupil should have even turnout, and be able to control the turnout from the hip. She or he should have a good understanding of transfer of weight, and should be able to do releves and rises strongly on demi pointe. The pupil should be able to rise and releve with ease on one foot. Posture and balance must also be secure.
Other Pointe Shoe Problems
For the overarched foot, get them to sew a thick piece of elastic over the shoe for support until the feet have strengthened and the pupil has learned to support the feet. Don't allow them to go too far over as this will weaken the foot.
If one foot is bigger than the other, buy shoes for the bigger foot or buy 2 pairs.
A broken shoe means that muscles are weak and the student is not pulling up off the foot or she is sitting into the foot, thus putting undue pressure on the shoe and her feet.
Before starting point treat the feet with meths or camphrey or canyon herbal cream. This helps to reduce the incidence of blisters.
If shoe twists off the heel then it is too big.
If the shoe is too small, the toes will be squashed.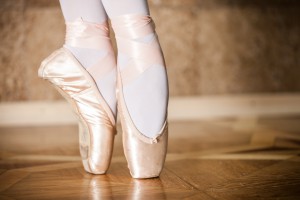 The heel should stay in the shoe on demi point and foot mustn't slip in the shoe.
To fit a pointe shoe, stand in 2nd and demi plie. Relax foot and spread toes, as this stretches foot to its longest point.
Toes should be slightly touching the block with no pressure on the sides or top. The shoe must be tight-fitting, but not the foot shouldn't be squashed. Be careful the shoe is not too pointy on the toe area. Make sure that ribbons are tied correctly to support the ankles.
The other important aspect of how to dance with pointe shoes is choosing the right pair of pointe shoes for you. The choice nowadays is vast, and there is a shoe type to suit every foot. Go Here To Find Out More About Types of Shoes.