La Sylphide ballet story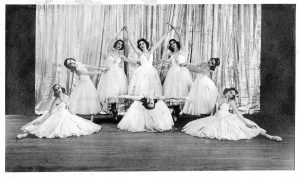 was ballet's statement ballet in the Age of Romanticism.
Marie Taglioni was and always will be the incarnation of its ideal. Her light and graceful dancing and her use of pointe for expressive purposes were fully exploited in the ballet that her father created for her in 1832.
La Sylphide became her most famous role and to this day the Sylphide and the legendary dancer who created her remain inextricably bound together.
La Sylphide Ballet Story
The story starts with James, a young Scotsman who is asleep a chair by a window on his wedding day. An enchanting creature – La Sylphide – is kneeling at his feet and gazing at him lovingly. James awakes when she kisses him and he tries to catch her. She eludes him and vanishes.
Anna, James' Mother, and Effy, James' fiancee arrive. Effy's girlfriends arrive with wedding gifts, and Effy dances merrily among them.
James notices that old Madge has entered quietly. She was once a member of the same clan but is now an outcast. James violently declares that her presence is a bad omen and wants to throw her out, but Effy and her friends intercede on her behalf. Madge tells the girls their fortunes, but when it is Effy's turn, she predicts that she will not marry James, but his brother. In a fury, James throws the fortune teller out. She, in turn, curses him and swears vengeance.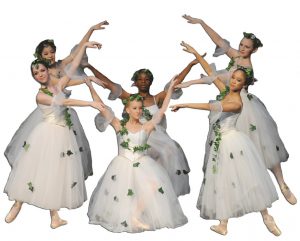 While Effy is getting ready for her wedding, James sits alone thinking about the sylph, and whether her presence was a dream or reality. Suddenly the sylph re-appears and declares her great love for him and her despair that he is to marry Effy. She dances and James is fascinated and is about to follow her into the forest when Gurn enters and notices James' strange behaviour.
He calls Effy and Anna, but by the time that they arrive, the sylph has vanished, and nobody believes him when he insists that James was not alone.
The guests arrive and for a while James forgets his vision. During the great wedding reel, however, James sees La Sylphide again and just as he is giving the ring to Effy the sylph snatches it away and puts it on her own finger.
Unable to resist her, James follows her out into the forest. His absence is discovered when a toast is proposed to the couple. They search for him in vain, and then Effy remembers Madge's prophesy and collapses in tears.
The sylph in the mean time has led James into her forest kingdom. He tries to embrace her but she escapes his grasp and warns him never to touch her. After James has sworn his eternal love for her, her sisters join them and they dance.
La Sylphide ballet story continues on in the meantime with Gurn discovering James' hat, but Madge stops him and makes him promise not to reveal what he has seen. In turn, she helps him to persuade the distressed and exhausted Effy to marry him.
Meanwhile, James is tormented by an unfulfilled passion for his beloved sylph and on encountering Madge begs for her help. She agrees on the condition that he follows her instructions without question. Madge gives him a scarf and shows him how to fling it around the sylph and says that this will make La Sylphide his forever.
La Sylphide on seeing the scarf begs James to give it to her. At first, he refuses and then orders her to kneel in front of him. He does as Madge has instructed. He is unaware that she is struggling to escape out of mortal fear, and he embraces her and kisses her passionately.
Trembling with pain, the sylph sheds her wings and sinks feebly to the ground. Only then does James realise what he has done by ignoring her warning. Before she dies the Sylphide once again vows her eternal love and with a blessing, gives him back the wedding ring. The mourning sylphs float heavenward with their lifeless sister and James is left alone with his grief.
He hears the sound of joyful music and sees a wedding procession approaching. Effy and Gurn are about to be married. The gleeful Madge stops when she notices James and triumphantly reveals that she is avenged.
Overcome with grief, James falls to the ground as Madge's exultant laughter echoes through the forest.
If you are interested in reading the real La Sylphide Ballet Story, here is a book you can purchase for next to nothing which is all about the original Sylph – Maria Taglioni.
Be careful not to get confused between La Sylphide and Les Sylphides. They are both totally different ballets.