Olga Preobrajenska was born in St. Petersburg on January 21, 1871. I have yet to find out what her real surname is hence the two different ways of spelling it in the title of this page. I have a feeling the one way is the Russian way and the other the English way.
Her mother died shortly after her birth and her father took very little interest in her after that.
Even though she came from a family that had no connections whatsoever with the ballet or any of the other arts, Olga Preobrajenska decided early in life that she was going to be a dancer when she grew up.
Olga Preobrajenska The Dancer
She started lessons with Leopoldina Lozenskaya, who was a former dancer at the Mariinsky Theater.
After numerous rejections, by the age of ten, she was finally accepted into the St. Petersburg Theatre School.
She did her intermediate under Lev Ivanov, Christian Johansson and her advanced with the famed choreographer Marius Petipa.
Olga Preobrazenska had limited possibilities as a ballet dancer, as she was short, plain, had mild scoliosis and a hyperextended knee.
She didn't give up easily though and over the years with continuous self-discipline and hard work, she overcame her shortcomings and achieved great success as a pupil.
Upon graduation in 1889 she immediately entered the Maryinsky Company for which the theatre school existed.
At first, Olga Preobrajenska was relegated to the back row of the corps de ballet with no hope of becoming a soloist. Nevertheless, she achieved this distinction by 1896 and was elevated to the rank of a ballerina by 1900.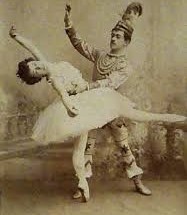 Olga enjoyed fame and popularity to equal that of Mathilde Kschessinska who was the greatest Russian ballerina of the time.
She performed a broad and varied range of roles, including almost all of those in ballets choreographed by Marius Petipa, Ivanov, and Legat. She was also the first to perform some of these parts like:
Anne in Petipa's Barbe-Bleu (Blue Beard)
Pierette in Petipa's Les Millions d'Ariequin (Harlequinade, 1900)
Henriette in Raymonda (1898)
Pavel in Gerdt's Javotte (1902)
Cleopatra's slave in Fokine's Une Nuit d'Egypte (A night in Egypt, 1908)
She also danced in Fokine's Chopiniana (1908; 1909), and as late as 1915 he staged Tchaikovsky's Romance for her when she was 44.
Olga remained a leading dancer there for nearly thirty years. Despite her poor figure and lack of allure, Preobrazhenska was a hard worker and through sheer determination, her career advanced steadily.
Her greatest triumphs were Coppelia, La Fille Mal Gardee, Paquita, The Sleeping Beauty and Raymonda.
She was gifted with a lively personality, personal charm, and a dazzling smile which she conveyed easily across the footlights, and she became very popular with the St. Petersburg audiences.
She was never satisfied with her art and even though she was a mature and respected dancer, Olga Preobrazhenska took lessons from Enrico Cecchetti and Nicolai Legat, as well as Caterina Beretta in Milan, Joseph Hansen in Paris and Katti Lanner in London.
She also studied music (piano) and took voice lessons.
In 1895, Preobrazhensak made her first trip abroad touring for the Mariinsky in the company of Matilda Kshesinskaia and her brother Joseph Kshesinsky. She appeared in Dresden in Monte Carlo and at La Scala in Malan (1904) and in Paris in 1909.
In 1910 she danced a shortened version of Swan Lake in London for the first time and in 1912 toured in South America.
During the First World War, she trained as a nurse and went on to work in several hospitals in order to learn as much as possible about her new craft. She served in various military hospitals and conducted a small hospital in the courtyard of her home, all the while continuing to teach her classes in ballet under increasingly difficult conditions.
She taught at the St Petersburg Theater School from time to time and after the Russian Revolutions of March and November 1917, she continued with her career by joining the new School of Russian Ballet which was newly founded by Akim Volynsky.
Here the newest and most innovative ballet techniques were being taught and further developed. She served as a teacher until 1921. She worked training the greats like Agrippina Vaganova, Alexandra Danilova, Olga Mungalova, Vera Volkova and even Vaganova who went on to become the greatest dance teacher in the Soviet Union and the founder of Soviet Ballet.
Olga Preobrajenska found the destruction of the old world of Imperial Russia of which the ballet had been so much a part of very difficult to cope with and in February 1921 she left Russia for Finland.
After a few gala performances in Riga, Latvia (which was no longer a part of Russia), she went to Berlin where she danced wherever she could get an engagement.
She wrote to La Scala in Milan where she had performed four times in the past and received an invitation to choreograph there for an entire opera season. After this, she realized that Berlin had nothing to offer her and she left for France shortly after her return from Milan.
Olga Preobrazhenska The Teacher
In 1923 she settled in Paris and opened a private school at the Studio Wacker. As her fame spread, she became one of the most distinguished and sought after teachers in Europe until her retirement in 1960 at the age of 89.
As a dancer, Olga Preobrazhenska was admired for her precision and the perfection of her technique, as well as her soaring leaps. She had wonderful musicality and was a natural actress. She had a gift for improvisation.
Here is a list of the roles that brought out the best in Preobrazhenska:
Butterfly in Les Caprices du Papillon
Aurora in the Sleeping Beauty
Lise in La Fille Malgarde
Muzhichok by Petipa
Liszt Czardas by Ivanov
Swanilda in Coppelia
Teresa in The Cavalry Halt
Galatea in Acis et Galatea
Summer in Petipa's Four Seasons
She was never considered much of a success as Odette-Odile in Swan Lake or as Gizelle.
However, it was as a teacher that she left her mark on the world of classical dance and she devoted herself to passing on the traditions of the Russian Ballet.
She had an ability to detect and weed out the defects in her pupil's work that made her a born mistress of ballet instructions.
She was a firm believer in Cecchetti's code that ballet dancing must be mastered in the classroom first and could not be mastered later on the stage.
With her authority and rigid discipline, she gave her pupils an extraordinary command of technique. When the Ballet Russe de Monte Carlo was formed in 1930, most of the dancers were former pupils of Peobrazhenska's including its earliest two stars Tamara Toumanova and Irina Baronova.
Other dancers who studied under her or who came to take classes with her in both St Petersburg and Paris included Margot Fonteyn, Hugh Laing, Vladimir Skouratoff, Mialord Miskovitch, Ludmilla Tcherina, Nina Verchinina, Igor Youskevitch as well as company directors and other well-known teachers.
She was an intensely private person and never married. She tended to keep people at a distance.
Her closest friend was her former pupil and later assistant Elvira Rone, who especially in her later years managed her studio for her.
She never quite accepted that her career as a dancer was over and suffered from recurrent depression over the years. She could be abrupt to the point of rudeness, yet she was kind and generous and often taught impoverished children for free. She was a great lover of animals and birds.
In her last years, she was ill and living in poverty and she depended very much upon the charity of Toumanova. She died in a nursing home in Sainte-Mande, France on the 27th of December 1962, just a few weeks away from her 92nd birthday.
She was mourned as one of the last survivors of the Golden Age of the Russian Imperial Ballet.