In this post, I would love to share the Royal Ballet History with you, as it is both interesting and fascinating.
The Royal Ballet is one of the most Famous ballet companies in the world and is internationally renowned for its artistic and creative excellence.
Marie Rambert and Ninette de Valois are just two of some of the great women that England owes their ballet dancing greatness to.  This is a brief outline and history of how the Royal Ballet came to be.
The Royal Ballet History
Marie Rambert (1888 – 1982) was actually born Cyvia Rambam in Poland.  In those days dancers felt that they had to have French or Russian names in order to succeed, so most of their names were changed.
She was trained in Eurythmy and then joined Diaghilev's Ballets Russes and helped Nijinsky with the Rite of Spring.
In the early 1920's she started the Rambert Ballet School, a ballet company where Frederick Ashton and Antony Tudor got their start in the ballet world.  Ballet Rambert is now known as Rambert Dance and is a well known and great contemporary troupe of dancers.
Ninette de Valois (1898 – 2001) was born in Ireland and also changed her name from Edris Stannus.  She also danced for Diaghilev and also formed her own company and school.
The company she formed started as the Vic-Wells Opera Ballet in 1931, went on to become the Sadler's Wells Ballet. This company is now known as The Royal Ballet.
Ninette de Valois was a choreographer herself and did numerous revivals of the nineteenth-century classic ballet's.  She believed in having a mix in the company's repertory of traditional classical, romantic and modern works.
Frederick Aston became her perfect partner, and together they forged the company style that melded rigorous schooling and corps work, strong narrative instincts and gentle lyricism.
From 1935 Frederick Aston created ballets for future works for The Royal Ballet and used a young dancer called Peggy Hookham who we better know as Margot Fonteyn.  Margot Fonteyn became the next leading ballerina after Alicia Markova.
In 1946 The Royal Ballet history was changed again when it transferred to its current home in Covent Garden. As part of its 25th-anniversary celebrations in 1956, the Company was granted its Royal Charter, thus becoming The Royal Ballet.
During World War II the ballet company had to cope with air raids, blackouts, and loss of their men, including Aston to the draft, but they nevertheless continued to perform throughout the war.
The company then moved to the newly reopened Royal Opera House at Covent Garden in 1946 and opened with The Sleeping Beauty.  This production with Fonteyn as Aurora was a hit in New York in 1949.
With Margot Fonteyn as his muse, Frederick Ashton produced ballets that celebrated the English style.  Ashton's first full-length original work was made on Moira Shearer with Red Shoes, as Margot had an injury.
In Cinderella, Ashton himself was the funniest ugly sister.
Ondine was another hit that showed off Fonteyn's playful qualities as a water sprite.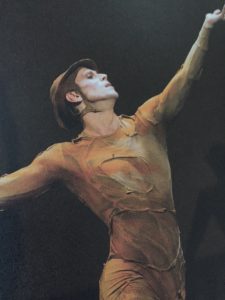 Other great dancers that the Royal ballet has nurtured included Moira Shearer, Rudolf Nureyev, Antoinette Sibley, Anthony Dowell, and Darcey Bussell.
Ashton took over The Royal Ballet from Ninette de Valois in 1963 for seven years.
Directors after that included Kenneth MacMillan, Anthony Dowell and until quite recently, Monica Mason who is one of The Royal Ballet's former ballerina's.
Kevin O'Hare succeeded Monica Mason as Director in August 2012.
To this day the Royal Ballet maintains a vast repertory, showcasing the great classical ballets and heritage works from its two great 20th century choreographers – Founder Choreographer Frederick Ashton, Kenneth Macmillan and others including John Cranko, George Balanchine and Jerome Robbins.
The Royal Ballet History will carry on as it continues to foster new work from leading choreographers of the day.
The Royal Ballet still has some of the greatest dancers in the world today.
For a history lesson on the Royal Academy of Dance, click here.