Mathilde Kschessinska was born in St. Petersburg Ligovo, near Peterhof in the of August 1872.
She was the daughter of a well-known dancer of Polish origin, Feliks Krzesiński. Her father and her brother were both dancers in St. Petersburg.
Mathilde Kschessinska graduated from the Imperial Ballet School in 1890 and five years later was filling all the leading roles in the repertory.
Mathilde Kschessinska made her début in a pas de deux from La Fille Mal Gardée during a graduation performance in 1890 attended by Emperor Alexander IIIand the rest of the Imperial family, including the future Nicholas II. At the post-performance supper, the emperor sought out the young Kschessinskaya and told her to "…be the glory and adornment of our ballet."
Small, dark, vivacious and endowed with a prodigious technique, she was the first native-born dancer to challenge the supremacy of the then reigning Italian virtuoso ballerinas and she was the first Russian ballerina to execute the famous 32 fouettes, introduced by Pierina Legnani in Swan Lake.
Her triumphs were scored in ballets like Le Talisman, Esmeralda, Fiammetta, and La Fille de Pharaon. These ballets were monumental mainstays of the later 19th-century repertoire, now all but forgotten.
It is related that when she appeared in Western Europe with Nijinsky in Swan Lake under the aegis of Diaghilev, her success was such that her celebrated partner, in an access of rage and jealousy, tore his costume to shreds!
She was a mistress of the future Tsar Nicholas II of Russia prior to his marriage, and later in the wife of his cousin Grand Duke Andrei Vladimirovich of Russia. Because of this, she enjoyed protection in high places and she was a person to be wary of.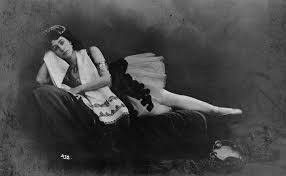 In 1902, she gave birth to a son, Vladimir he was later titled H.S.H. Prince Romanovsky-Krasinsky, but said that he never knew for sure who his father was.
Innumerable stories are told of her flouting of authority with impunity and her indulgence in vengeful caprice – faced with a fine for having worn a dress of her own devising at a performance instead of the regulation costume provided by the theatre, she secured the forced resignation of the then director of the Imperial Theatres, Prince Volkonsky, an enlightened, artistic and intelligent man, who assisted the great choreographer – reformer Fokine's first steps.
On the other hand, Tamara Karsavina has told us how, at the start of her career, the older dancer took her younger colleague under her wing, knowing full well, as she generously admitted in after years when the younger dancer now world-famous was expressing her gratitude for that early protection, that she was aiding a talent as great as her own, which might one day eclipse hers.
She said, "I did nothing but smoothe your path; your beauty and talent would have carried you to success without my aid."
In 1917, on the outbreak of the revolution, Kschessinska left Russia and settled in Paris, where she opened a school of dancing.
Practically all the famous names of the next generation have passed through her capable hands at one time or another.
In 1960, she published an autobiography entitled Souvenirs de la Kschessinska (published in English as Dancing in St. Petersburg: The Memoirs of Kschessinska).
In later years, she suffered financial difficulties but remained indomitable. She died in Paris, eight months short of her 100th birthday. She is buried at the Sainte-Genevieve-des-Bois Russian Cemetery.