You are probably wondering who Antony Tudor is, and why is there an article about him on this website for dancers.
He was a major creative figure who exerted decisive influence on both sides of the Atlantic when it came to his choreographic skills, but sadly, very few of his ballets are still staged today.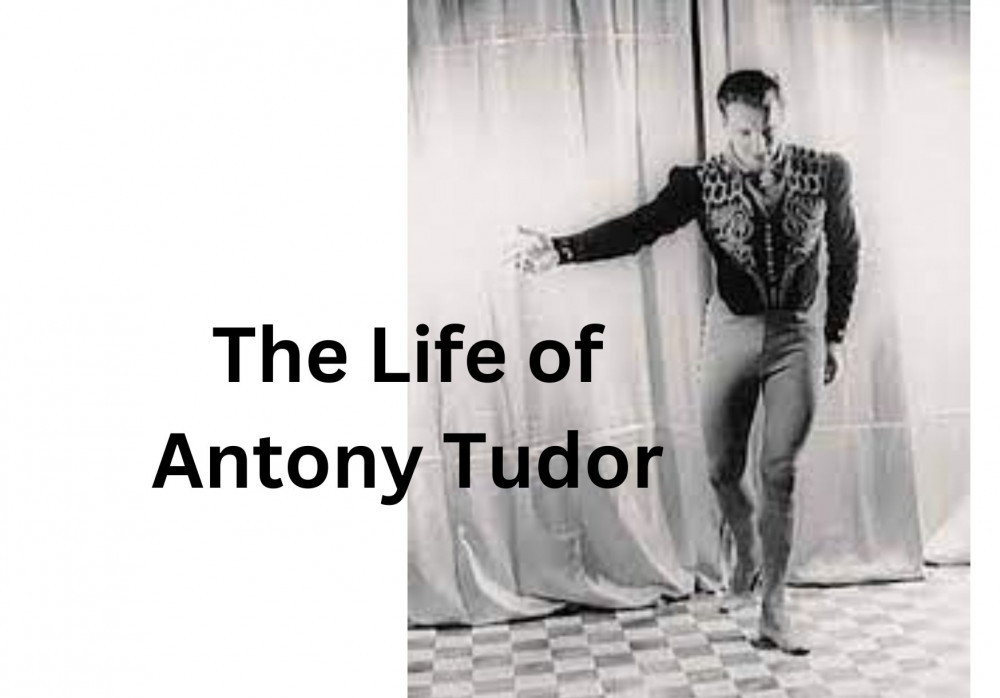 Who Is Antony Tudor?
Antony Tudor was born William Cook on the 4th of April 1908 and he died on the 19th of April 1987, He was an English ballet choreographer, teacher, and dancer. He founded the London Ballet, and later the Philadelphia Ballet Guild in Philadelphia, Pennsylvania, U.S., in the mid-1950s.
His Childhood
His name was William Cook and he was born in East London and grew up in the Finsbury area.
He discovered dance quite by accident in his late teens when he first saw Sergei Diaghilev's Ballets Russes. He watched Serge Lifar in Balanchine's Apollon Musagete. Later the Ballet Russes featured Anna Pavlova who further inspired his move into the world of dance. He was no longer satisfied at the age of nineteen to pursue the prospect of a shopkeeping career.
He reached out to Cyril W. Beaumont who was the owner of a ballet book shop in London to seek advice regarding getting some training and was referred to Margaret Craske or Marie Rambert who was a former Diaghilev Ballet dancer who taught the Cecchetti method. The year was 1928.
His Career
And so began his career as a choreographer in whom several critics particularly in America saw his fire of genius.
Rambert was attracted by his intelligence, and impressed by his determination.
He was employed in the Smithfield meat market, and he started work each morning at Five a.m. When he finished at four p.m. he went to the Rambert studios for lessons.
He then managed to get a two-year contract from Rambert as stage manager and secretary to the Ballet Club, which was the early form of what was to become the Rambert Company.
Through this contract, he had just enough money to live on and so could work all day at the career he had chosen.
Working for Rambert he worked in every capacity – dancer, stage manager, pianist, and in due course teacher. In this way, he learned his craft and became a professional. His late start drove him forward in passionate study to make up for lost time, however, it did affect his acquisition of the classical vocabulary, which limited him as a dancer and influenced his application of the vocabulary on stage.
This explains his leaning towards dance drama and his avoidance of any technical displays.
His first work was Cross Garter'd and it was brought to Rambert already carefully plotted and with a full synopsis. The inspiration was Shakespeare, and the music was by Fescobaldi, who was a contemporary of Shakespeare.
Massine praised the result, which was first seen at the Mercury Theatre on the 12th of November 1931, although Rambert was more cautious.
In March 1932, Lysistrata was done to piano pieces by Prokofiev, and this established him firmly with the audiences of the Ballet Club and satisfied Rambert that her assessment of his potential ability was correct.
Adam and Eve in the December of the same year carried him into the larger and smarter world of the Camargo Society.
The Planets, in October 1934, illustrated these qualities and confirmed him as one of the two important new choreographers to have arisen in Britain, the other being Ashton. Funnily in Britain Tudor didn't enjoy the popular acclaim or success of Ashton. The Planets, however, was Tudor's first major ballet on a serious theme. He used three movements or 'episodes' – Venus, Mars, and Neptune, later adding Mercury as a fourth.
This heralded the line for greater ballets to come, including Jardin Aux Lilas, Dark Elegies, and Pillar of Fire.
With Jardin, in 1936, he can be said to have reached maturity as a choreographer, with Dark Elegies in 1937, he made his most ensuring, and finest contribution to British choreography which is, in his own opinion, his best work. With Pillar of Fire for American Ballet Theater in 1942, he created a masterpiece of the quality of the Dark Elegies which not only established him in New York but opened a new line of development to Ballet Theatre for the next quarter of a century.
In 1938, he founded the London Ballet with Rambert members, including his future life partner Hugh Laing, Andrée Howard Agnes de Mille, Peggy van Praagh, Maude Lloyd and Walter Gore. At the beginning of World War II, in 1940 he was invited with them to New York, joining Richard Pleasant's and Lucia Chase's reorganized Ballet Theater. Chase's company was later to become the American Ballet Theatre, with which Tudor was closely associated for the rest of his life.
Over the years he choreographed many ballets, some of which are mentioned in articles on this website.
He was a resident choreographer with Ballet Theater for ten years, restaging some of his earlier works but also creating new works, his great Pillar of Fire (1942), Romeo and Juliet, Dim Lustre and Undertow, on that company by the end of the war.
Retiring from dancing in 1950, he headed the faculty of the Metropolitan Opera Ballet School and taught at the Juilliard School recurrently from 1950 onwards.
He mentored dancers of color and offered weekly classes at the Philadelphia Ballet Guild, which he established in the mid-1950s. Among others, he taught Carole King, who went on to found the predecessor to the NAISDA Dance College for Aboriginal and Torres Strait Islander students of contemporary dance in Australia.
He was artistic director for the Royal Swedish Ballet from 1963 to 1964.
From 1973 Tudor continued his teaching career as a professor of ballet technique at the Department of Dance, University of California, Irvine (work curtailed by a serious heart condition), while rejoining American Ballet Theatre in 1974 as associate artistic director, creating The Leaves Are Fading and Tiller in the Fields, his last major work, in 1978. With Laing, he continued seasonal residence in Laguna Beach, California.
As a teacher, Tudor was known for focusing on physical and psychological details to strip away the ego allowing the dancer to be pushed outside their comfort zone and extend their potential. In an interview with Dick Cavett, Tudor said, "You've got to get rid of the personal mannerisms to get to the character in the ballet and dancers don't want to let go. Breaking down a person isn't hard. But you cannot break them down unless you are willing to pick up the ashes right away and turn them into the Phoenix. That's the tough thing. You're terribly tempted to lay them flat and walk on them.
He was a disciplined Zen Buddhist,  and he died on Easter Sunday in his home at the age of 79.
Tudor alongside George Balanchine, is seen as a principal transformer of ballet into a modern art, but of a genius that uses, rather than proceeds from, ballet forms. His work was usually considered as modern "psychological" expression, but – like their creator – of austerity, elegance, and nobility, remarkably primarily using only classical forms.
Mikhail Baryshnikov once said, "We do Tudor's ballets because we must. Tudor's work is our conscience."[6]
Thirty of Tudor's dances have been documented in Labanotation by the Dance Notation Bureau. The scores' introductory material contains a history of the dances, cast lists, stylistic notes, background on Tudor, and information needed to stage the works (costumes, sets, lighting, music). Who knows, maybe we will see some of them again in the future.
The Antony Tudor Ballet Trust was established to continue staging Tudor's works. His will appointed Sally Brayley Bliss as the sole trustee of his ballets upon his will submission to the Surrogate's Court of the State of New York in 1987.
Tara McBride is the administrator for the Antony Tudor trust.