Because the 18th of May is the birth date of Dame Margot Fonteyn De Arias, and she will have been 100 years old this year, I thought it fitting to write an article about this wonderful lady and dancer.
Dame Margot Fonteyn was born on the 18th of May 1919 as Peggy Hookham in Reigate, England. She was a solemn little girl with a thick page-boy haircut, a pet chipmunk and had a love of vigorous character dancing.
Pavlova who was a star at the time made very little impression on the little girl and who would have known that she would become Britain's prima ballerina absoluta.
By her own admission, she was not an exceptional ballerina, and there were many others who could do things better than she could in her time. She had no elevation, no instep, and feeble pirouettes, but there was something special and touching about her and when you watched her performing, you simply fell in love with her.
The qualities that made Fonteyn exceptional were drawn out and developed by several instrumental figures – Her mother, whom she inherited her dark Latina looks and striking eyes, to a determined approach to her daughter's training. The best teachers were sought out wherever the Hookham's moved.
Ninette de Valois was the next one who saved her feet by making a change in her shoe and giving her intensive footwork practice.
Ashton was the next one who choreographed for her and on the advice of Tamara Karsavina, instructed her in the angled aesthetics of epaulement.
The Vic-Wells musical director Constant lambert imparted his knowledge of the arts and literature to the young performer who felt the lack of her academic schooling keenly. They had an affair that ended disastrously and she didn't even mention him in her autobiography.
So Who Is Margot Fonteyn?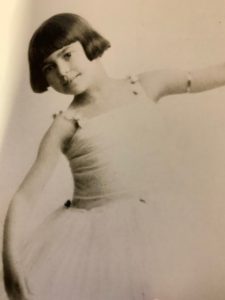 In case you are wondering who she is, she was an outstanding and beloved classical ballerina with an extensive career that spanned from 1934 to 1979.
She danced for England's Royal Ballet which put British Ballet on the international map.
Her father was British and her mother, Hilda, was the daughter of an Irish mother and a Brazilian father. Margot had one brother called Felix.
They both grew up happily in the London suburb of Ealing and Margot began dancing classes at the age of four at a local dance school.
Her father accepted a position as chief engineer of a tobacco company in Shanghai when Margo was eight, so that is where they moved.
In Shanghai, she took lessons from George Goncharov. She loved moving and was always creating dances of her own.
When she was fourteen her mother brought her to London to give her a chance to develop a dancing career.
She started lessons with Serafina Astafieva and then moved on to the Sadler's Wells Ballet School with Vera Volkova.
In her teenage years, Peggy Hookham was singled out by the formidable Ninette de Valois as the prized practitioner of the fledgling Britsh Ballet.
Her identity was changed at de Valois' bidding.
Since Peggy's mother had been born illegitimately to an Irish mother, the well-to-do Fontes family refused to lend their name to the burgeoning ballerina of the Vic-Wells Company, so she became Margot Fonteyn and was transformed over the years into Ashton's muse and custodian of the Petipa classics, as well as an international star way beyond balletic enclaves.
Dame Margot Fonteyn de Arias devoted her entire career to the Royal Ballet.
The Royal Ballet was founded by Ninette de Valois in 1928 as the Vic-Wells/Sadler's Wells Ballet. Ninette de Valois believed in Fonteyn's talent and pushed her through difficult moments.
She made her debut as a snowflake in the Nutcracker in 1934 and then the next year in a wealth of dance roles in the standard classics such as The Sleeping Beauty, Giselle, and Swan Lake. Due to the departure of the great ballerina Alicia Markova, Fonteyn then moved up the ranks quickly.
She loved dancing the romantic heroines and her first major role was in Frederick Ashton's new ballet Le Baiser de la Fee in 1935. Fonteyn was Ashton's muse and in her autobiography, she writes that although she had to work hard to master his creations, her happiest moments on stage were dancing in his ballets.
He created leading roles for her in Apparitions, Nocturne, Les Patineurs, A Wedding Bouquet, Horoscope, the Wise Virgins, Dante Sonata, The Wanderer, The Quest, Ondine and Daphnis, and Chloe.
De Valois also created roles for Dame Margot Fonteyn de Arias in Orpheus and Euridyce and Don Quixote.
She was the first ballerina in George Balanchine's Ballet Imperial.
During World War II the company had a full schedule and were performing to all types of audiences including troops in Brussels.
In 1949 she danced her first performance in the United States which was triumphantly received.
Fonteyn was well known for her pas de deux work (partnered work). She worked with both Robert Helpmann and Michael Sommes for many years.
She danced in Paris in Les Demoiselles de la Nuit in 1948 with Roland Petit.
In her forties, she started thinking about retirement, but then met Rudolf Nureyev who had just left Russia at the age of 23.
They became a dynamic team and became known as the perfect partnership. The combination of his spirit and her technique which was at its best made it joint artistry.
They performed Giselle, Swan Lake, Romeo, and Juliet. Ashton created Marguerite et Armand especially for them and Martha Graham created Lucifer just for them.
For the next fifteen years, they performed all over the world. It is rumored that they once received a 40-minute ovation and had 43 curtain calls.
Dame Margo Fonteyn De Arias was the most versatile British ballerina after World War II. Her black hair, pale face, and luminous eyes, as well as her engaging smile, were her trademarks.
She also had amazing musicality, a beautiful physique, a gentle loving manner and a soft style of movement with exquisite lines. This created a strong connection with audiences all over the world.
Her presentation of Princess Aurora in The Sleeping Beauty is considered the ultimate interpretation ever of that role.
She had an exceptionally long career and only had her farewell performance in London's Royal Opera House at the age of 60.
Dame Margo Fonteyn De Arias's Personal Life
Margo Fonteyn got married at the age of 36 in Paris to a man she had met in her youth – Robert E Arias, also known as Tito.  He was the son of the former president of Panama. He became the Panamanian ambassador in London and was actively involved in the politics of Panama.
He became paralyzed when he was attacked by a political opponent and the couple continued their separate careers, yet always remained connected, even when they were working far apart.
In 1956 Dame Margo Fonteyn De Arias was made a Dame of the British Empire.
In 1979 she became 'prima ballerina absoluta' which is a title only given to three ballerinas in the 20th century.
She became the president of the Royal Academy of Dancing in 1954 and annually organized and presented a gala matinee, persuading famous dancers from all the major companies to appear.
She wrote her autobiography while still dancing in 1975 and in 1979 she presented the television series and book The Magic of Dance.
A documentary was made about her on her Panamanian ranch to celebrate her 70th birthday.
She died on the 21st of February 1991 at the age of 72, two years after her husband.
If you would like to find out more about Dame Margot Fonteyn de Arias and her life story, these books below can be purchased online by simply clicking on them. You can also watch the most interesting documentary on her below.