I have a wonderful collection of ballet books at home that I have collected over the years. They weren't always easy to come by, as the book stores when I was growing up seldom had anything on dance, but when they did, I always snapped it up.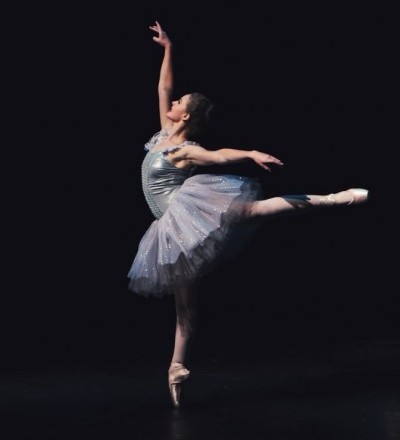 Now it is far easier to get your hands on great ballet books, as most can be purchased online at reasonable prices. Here are some of my favorites.
Ballet Books Children Will Love
These are four of my favorite children's ballet books. If you are interested in finding out more about any of the books, simply click on the link or on the picture of the ballet book.
Ballet dancers of all ages will love the mesmerizing stories of the world's great ballets. In this charmingly illustrated hardcover book plus music CD, younger readers will enjoy fun facts, dancing how-tos, some history behind the dances and compositions, plus profiles of famous ballerinas and dancers while listening to excerpts of classical music.
From the Inside Flap:
Welcome to the magical world of ballet!
In this book, you'll experience dance in a whole new way–by listening and learning at the same time. You'll read about the history of ballet and its most famous dancers, composers, and choreographers.
You'll find out a little bit about the different ballet steps and positions (and get a chance to try them yourself). And best of all, you'll read the wonderful stories of the world's greatest ballets, and, as the stories unfold, you can listen to pieces of music from some of them.
Soon, you will be a ballet expert!
From The Nutcracker and Swan Lake to Rodeo, Fancy-Free, and Peter and the Wolf, all of the world's most popular and beloved ballets are included here, illustrated with beautiful watercolors that you will want to return to again and again. Enjoy the stories (and the stories behind):
La Sylphide
Giselle
Coppelia
Don Quixote
Swan Lake
Sleeping Beauty
The Nutcracker
Dying Swan
Firebird
Petrouchka
The Rite of Spring
Peter and the Wolf
Romeo and Juliet
Rodeo
Fancy-Free
Circus Polka
Cinderella
Daphnis and Chloe
and more!
This 96-page ballet book is suitable for children between the ages of 8 and 13 years.
Aspiring ballerinas will leap into the world of ballet with this beautiful step-by-step guide. This inspiring book details all of the aspects of the world of ballet.
Richly illustrated photographs, informative text, and an included instructional DVD helps beginners and intermediate ballet students gain a greater understanding of this timeless art.
There are explanations of the exercises and the technique needed to perform them.
This book is also great for adult beginners.
Fancy Nancy is ready for the spotlight! Fancy Nancy and her best friend, Bree, couldn't be more excited about their upcoming dance show. After all, it's all about mermaids, and who knows how to be a fancy, glamorous mermaid better than Fancy Nancy herself?
But when another ballerina wins the coveted role of the mermaid, Nancy is stuck playing a dreary, dull tree. Can Nancy bring fancy flair to her role, even though it isn't the one she wanted? And when disaster strikes right before the big ballet, who will step into the spotlight?
The best ages for this book is between 4 and 8 years old.
From port de bras to adagio, young dancers will learn pointe work from any level. Arabesque into the classic world of ballet by finding out about its history. Become acquainted with classic choreographers and composers. This book for children even includes advice on how to do stage makeup and take care of your ballet shoes!
Ballet Books Adults Will Love
Here are my favorite adult ballet books. Enjoy!
Learn the stories behind all the renowned companies such as The Royal Ballet and the Bolshoi Ballet.
Read about the famous composers and choreographers
From Ballet's origins at court and the first national ballet companies to the contemporary scene and extraordinary venues that stage the productions, this book covers an impressive history of ballet and provides an invaluable overview of this beautiful art form.
The book is filled with beautiful and rare photographs and is an essential gift for all ballet enthusiasts.
This ballet book is one of my favorites and I reference with it often when teaching.
The Ballet Companion is a fresh, comprehensive, and thoroughly up-to-date reference book for the dancer.
It has 150 stunning photographs of ballet stars Maria Riccetto and Benjamin Millepied demonstrating perfect execution of a lot of the positions and steps.
This is every dance students dream as it includes:
Practical advice for getting started, such as selecting a school, making the most of the class, and studio etiquette.
Explanations of ballet fundamentals and major training systems.
An illustrated guide through ballet class — warm-up, barre, and center.
Guidelines for safe, healthy dancing through a sensible diet, injury prevention, and cross-training with yoga and Pilates.
Descriptions of must-see ballets and glossaries of dance, music, and theater terms.
Along the way, you'll find technique secrets from the stars of American Ballet Theatre, lavishly illustrated sidebars on ballet history, and tips on everything from styling a ballet bun to stage makeup to performing the perfect pirouette.
Whether a budding ballerina, serious student, or adult returning to ballet, dancers will find a lively mix of ballet's time-honored traditions and essential new information in this beautiful ballet book.
Misty Copeland believes "There has been a shift in recent years in which women no longer desire the bare bones of a runway model. Standards have changed: what women do want is a long, toned, powerful body with excellent posture."
In other words, the body of a ballerina. In her first health and fitness book, Misty will show women how to get healthier and stronger and how to reshape their bodies to be lean and flexible with:
Step-by-step advice
Meal plans focusing on healthy fats
Workout routines
Words of inspiration, including excerpts from Misty's personal journal.
Another great book to read from Misty Copeland is Life In Motion below.
The clarity of the writing, in a field notorious for its opaqueness, is in itself a major achievement."–Merrill Ashley, Principal Dancer, New York City Ballet.
"An excellent, comprehensive guide to ballet pedagogy valuable to teachers and students alike. For many years Gretchen's has been a major voice in the dance community, and this extensive work details the study of classical ballet from her unique and expert point of view. I applaud her, and I heartily recommend Classical Ballet Technique."–David Howard, International Ballet Master, and Master Teacher.
"Gretchen Warren has undertaken a monumental task and has completed it with distinction. Obviously, a labor of love, this book's attention to detail and the clarity of its text and photos make it a valuable contribution to the lexicon of ballet. I recommend it to every serious student and teacher."–Thalia Mara, Founding Director, Ballet Repertory Company and National Academy of Ballet; Artistic Director, U.S.A. International Ballet Competition.
"Congratulations to Ms. Warren for her authoritative book on classical ballet. Thanks are in order too from the many professional teachers, dancers, and students of the art form who will benefit from this book-an essential addition to any dance lover's library."–Lawrence Rhodes, Artistic Director, Les Grands Ballets Canadiens.
This one is a must for older students and adults who are studying the art of classical ballet in a more serious way.
As much as we may enjoy Swan Lake or The Nutcracker, for many of us ballet is a foreign language.
Ballet as an art communicates through movement, not words, and its history lies almost entirely abroad–in Russia, Italy, and France.
In Celestial Bodies, dance critic Laura Jacobs makes the foreign familiar, providing a lively, poetic, and uniquely accessible introduction to the world of classical dance.
This ballet book combines history, interviews with dancers, technical definitions, descriptions of performances, and personal stories, Jacobs offers an intimate and passionate guide to watching ballet and understanding the central elements of choreography.
Beautifully written and elegantly illustrated with original drawings, Celestial Bodies is essential reading for all lovers of this magnificent art form.

Some more great ballet books adults and children will love that can be purchased online through Amazon.